CPM - back with new Vigour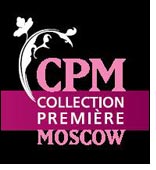 The international fashion sector is now rebuilding its confidence in the Russian market.After an unsettled year in 2009 large portions of the sector are now looking towards Russia again with greater optimism. A reflection of this optimism is the 14th CPM –Collection Première Moscow (24 to 27 February 2010) with its 1,200 expected brands – now more than ever the platform for international fashion in Russia.

Compared to the September event Eastern Europe's leading international fashion fair has now posted a 20% increase in brands bringing figures up to the previous year's level.Countries like Germany, Austria, France, Turkey or Denmark are again represented with considerably larger numbers of exhibitors than they were in September when the crisis was at its worse. The visitors travelling to each fair in Moscow from some 50 countries will be met by a comprehensive overview of current fashion trends for the 2010/11 Autumn/Winter season.

"The Russian apparel market seems to be moving out of the trough after turbulent times in 2009. Optimism is slowly but surely gaining the upper hand," said Igedo Managing Director Philipp Kronen at a press conference in Düsseldorf. "International fashion brands are now returning to the market – one that still holds tremendous potential even though the days of the "gold rush" are definitely over. Nevertheless, we are looking to the forthcoming event with great optimism."

CPM Project Director Christian Kasch added: "Experts are in agreement: boasting 140 million consumers the Russian apparel market will not disappoint the sector's regained confidence, producing stable growth rates over the next few years. Russia is a reliable and liquid partner, if only because of its raw material resources. Now it is up to the international fashion industry to chart a course if it wishes to benefit from the imminent recovery. This means CPM will also continue to play a key role for both the Russian and entire Eastern European market in future."

Looking for fashion? – CPM convinces us with its variety of brands
Newcomers at the 14th CPM – Collection Première Moscow include labels like Lola Casademunt and Archy Modas from Spain, IKKS Women and Kids, DDP, Catimini from France, Dr. Koffer USA from Russia, Emanuel Schvili and Daniela Drei from Italy, Betty Barclay with the brands Gil Bret and Vera Mont, Elegance Paris and H.I.S. from Germany or Linnanen Trading and Tam-Silk from Finland.

Furthermore, as in every season, the list of exhibitors at CPM includes many internationally renowned brands in different categories. The women's and men's segments feature such strong retail brands as Caramelo, Dikton's, Alba Conde, Escorpión and Sita Murt from Spain, American Vintage, One Step and Fuego from France, Bugatti, Lagerfeld, Olymp, Eterna and Otto Kern from Germany, Sportalm, Giesswein and Schneiders from Austria, Cerrutti 1881, Fontanelli, Le Fate, She's so, Havana & Co, Alezone, Herman & Sons from Italy, Friitala Fashion, Joutsen Finland, Finnkarelia and Nanso Group from Finland, Avva, Gizia and Sabra from Turkey, Alpa Land, Lea Vinci, S&S by Zotova, ZimaLetto from Russia and many more.