'Courage to be Bold' is main statement of POWERCAT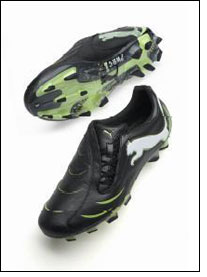 Sportlifestyle company PUMA AG announces the launch of the POWERCAT Football collection, which includes performance boots, jerseys, gloves, shin-guards and a ball. Following on the heels of the PUMA SPEED Collection, introduced in October 2009, the POWERCAT Collection debuts for the Spring Summer 2010 football season and will be worn by PUMA sponsored teams, Italy, Switzerland and Uruguay at the FIFA World Cup 2010 tournament.

The POWER collection takes its inspiration from idea of 'raw' football, harkening back to a player's primal instincts of fight versus flight. The collection is designed for each player to maximize his or her 'fight' instinct when lining up for the national anthem, preparing for a challenge or most importantly when making contact with the ball. Each product in the collection is inspired by the fearless attitude of the great white shark, the determination of a World Champion heavyweight boxer and the sleek, engineered look of a modern superhero. PUMA's POWERCAT PowerCat Collection, in the seasonal colorways, will be available at select PUMA retail stores, at www.puma.com and wholesale partners beginning February 27.

"Courage to be Bold' is the main statement of the POWERCAT collection, which revolves around PUMA's concept of raw football," said Filip Trulsson Senior Manager, International Teamsport Business Unit. "In 2010 PUMA Football's attention has been focused on the psychology of players wearing the product. The main objectives are about delivering products that would trigger 'raw' reactions of the players to make them both invincible and intimidating."

The products throughout the POWERCAT Collection are all developed to enhance performance on the pitch. Using state-of-the art 3D Motion Analysis, a scientific technique that captures and quantifies human movement, the data is incorporated into the design of the jersey and boots to ensure each player exerts minimal energy, but delivers maximum power with each body movement and kick.

PowerCat 1.10 Boot
The PowerCat 1.10 Boot uses PUMA 3D Power Shooting Technology which delivers unique rebound properties. The Springtech foam in the shark-like gills on the side of the boot are engineered to enhance every shot by putting extra power behind the ball as it catapults off the shoe. This means the boot intentionally does not absorb the typical amount of energy upon impact with the ball, allowing more power to be released with every shot.

The kicking area is made of a soft, thin leather and a synthetic microfiber around the quarter area, keeping the boot lightweight and easy to perform in. The bladed studs are configured to ensure smooth ground penetration and pressure distribution as well as maximum traction and maneuverability.

PowerCat 1.10 Kit
The new PowerCat 1.10 jersey harnesses the power and determination of both a white shark and a world champion heavyweight boxer. The kit uses technology specifically designed for footballers to give players the courage to be bold.