Oakley athletes earn 65 medals in Vancouver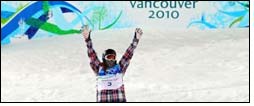 Oakley, Inc announced that athletes who relied on the company's performance innovations earned 65 medals in Vancouver. The final tally was 24 gold, 22 silver and 19 bronze. Medal contenders put their trust and faith in Oakley goggles including Crowbar, A Frame and the new Splice. Along with premium Oakley sunglasses such as Radar, M Frame, Flak Jacket and Enduring, the company's new Jawbone sunglasses helped athletes keep victory in focus. Oakley's unrivaled hockey shields were also a favorite in Vancouver.

"We could not be more proud of the performances these athletes achieved, nor more honored that they chose to rely on Oakley products for the greatest competitions of their lives," said Oakley CEO Colin Baden. "Our icon was pervasive in Vancouver. Some may think it was a matter of sponsorship, but world-class athletes insist on Oakley technology because they demand the very best in performance and protection. These men and women committed years of their lives, enduring untold sacrifice to prepare for those few days in February that would give them a shot at achieving their dreams. Oakley has spent decades defying limits to redefine performance for those who strive to do the same in sports. There is no greater compliment than their trust of Oakley technology for the most important performances of their careers," Baden concluded.

Oakley has earned a reputation for being the gold standard of performance technology. The company's world-renowned innovation helped athletes earn two dozen gold medals in Vancouver, reaching the highest step on the podium for events including speed skate, short track, long track, snowboarding halfpipe, boardercross, skiing, moguls, freestyle aerials, skiercross and cross-country.

Superstar Shaun White wowed the crowd with his gold-winning halfpipe performance wearing Oakley A Frame goggles, his personal favorite for the last ten years. Canada's Alexandre Bilodeau earned gold in moguls wearing the company's new Splice goggle, and skiercross athlete (and former downhill champion) Daron Rahlves called it the best fitting goggle he has ever worn. He added, "The frame design has no pressure points, and that's perfect for breathing through my nose, especially when it's cold."

Ashleigh McIvor of Canada depended on the proven technologies of Oakley Crowbar goggles in her gold-winning ski cross performance. Said Ashleigh, "My High Intensity Persimmon lens brightened things up so I had depth perception going off the jumps, and the ventilation technology allowed me to focus on the task at hand while the other athletes were stuck dealing with fog issues." Skier Chris Del Bosco added, "In ski cross, there are so many variables that are out of your control. Clear vision is one crucial component that I can control, and I know I can count on Oakley Crowbar to get me down the mountain." Additional athletes expressed their appreciation of Oakley goggle technology, including silver medalist Jennifer Heil: "In the sport of mogul skiing, I need to be able to read the terrain at four moguls per second. Often our races are held in difficult conditions such as rain, clouds, high sun, or even night. I know I can always rely on my Oakley goggles and the wide array of lens choices for the event."