Crack your look and hug Crocs style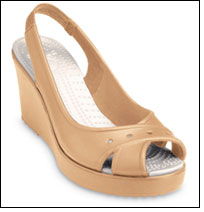 Crocs, Inc invites footwear fans to "Feel the Love" with the debut of its new Spring/Summer shoe line for women, men and children. Full of fresh, colorful, casual styles for any occasion and every lifestyle, Crocs' seasonal footwear collections offer industry-leading profound comfort and support that is only available with the Company's proprietary Croslite material. In the heart of every pair of Crocs shoes, Croslite material is an intuitive technology that works to conform to and cushion feet for a wearable hug.

"In the past, I only thought of Crocs footwear as a one shoe brand. I was completely surprised to find so many different and fun shoes that fit my anything-but-ordinary lifestyle and can be worn to the beach, running errands or to an afternoon barbeque with friends," said Alison Deyette, Founder of AliOnTheGo.com and nationally recognized lifestyle and personal style expert. "From cute peep toes and sandals, to wedges, flats and West Coast-inspired loafers, this line allows consumers to select shoes that express their individual style and enjoy the comfort they crave."

"These new shoe styles reflect our expertise in the design, development and marketing of custom contouring footwear," said Ken Chaplin, Global Vice President of Marketing. "At the core of our business is Croslite material, which produces footwear that is comfortable, soft, lightweight, non-marking, and odor-resistant; all important qualities that make Crocs footwear revolutionary. We continue to expand the types of shoes we create, introducing new spring styles that can be worn by anyone for a wide variety of occasions. Now, your Crocs shoes can go anywhere you do with style, ease and a lot of TLC."

Key Crocs Shoes Spring/Summer 2010 Styles for Women, Men and Children

• For women, Lady is an über comfortable, ultra chic, peep-toe, sling- back flat for women. It's the ideal shoe for dressing up simple summer dresses, capris or jeans, and comes in a wide range of colors, including Navy, Gold, Bubblegum, Parrot Green, Black and Oyster. The new women's collections also feature Farrah a stylish open-toe wedge with a 3 1/3 inch heel in Navy, Gold, Parrot Green and Black.
• For men, coastal living-inspired Melbourne and Santa Cruz are laid back, comfy alternatives to the traditional loafer. Melbourne comes in Espresso and Khaki colors, while Santa Cruz is available in Black, Chocolate, Khaki, Navy and Grey. Both styles are available in sizes 7-13.
• Exclusively for kids, Electro Slide is a two-toned slip-on that boys and girls can customize and personalize with Jibbitz shoe charms. With extra heel cushioning for little feet on the go, Electro Slide is available in a variety of adventurous color combinations, including Sky Blue with Dahlia, Fuchsia and Bubblegum, and Red with Light Grey.

Other style collections within the Spring/Summer 2010 line include:

• ABF: The almost barefoot feeling, ergonomic fit, maximum cushioning and encouragement of natural movement for men and women are at the center of ABF design. This collection includes the ABF Flip and ABF Slide in a variety of colors.