Sustainability - the way forward, H&M Trend Coordinator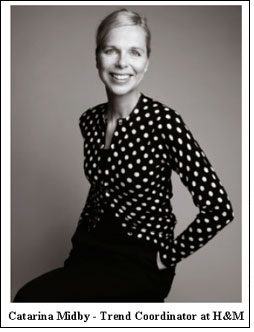 As the weather begins to warm up, a new fashion mood is blossoming at H&M. This spring will see a women's collection of floral and feminine fashion in sustainable materials. "We are extremely proud of our Garden Collection for women, which has organic and recycled materials in every single garment," says Ann-Sofie Johansson, Head of Design at H&M.

"The mix of floral prints and khaki classics works brilliantly for day to evening wear. I particularly like the sheer floral ruffle dress, the drawstring khaki jacket and the beautiful red rose bustier dress." There is also a selection of garments in sustainable materials in the men's department. "There are some real highlights to look forward to," says Ann-Sofie, "like the super-smart organic cotton slim-fit suit worn over a crisp gingham shirt."

Debuting this month at H&M is its first ever range of skin care with certified organic ingredients that are good for both body and soul. The range of everyday essentials includes shower gel, body scrub, body lotion, hand cream and lip balm, all of which are based on natural, organic ingredients and certified by Ecocert - Europe's biggest certification body for organic and natural cosmetics. "It felt like a natural step, since we've worked with organic cotton garments for some seasons now. There's also a strong demand from our customers for organics, and I hope they will be as excited as I am about the new products," says Ann-Sofie Johansson, Head of Design at H&M. The products are available in the fragrance combinations of raspberry and melon or lavender and mint, and are accompanied by make-up and toilet bags made from organic cotton.

Swedish illustrator Lovisa Burfitt will be designing a bag in organic cotton to help raise funds for H&M and UNICEF's All for Children initiative. Previously Sonia Rykiel designed two organic cotton bags, one of which was part of the knitwear collection she created in collaboration with H&M.

Lovisa Burfitt's bag will debut in store in June, giving H&M customers the chance to donate to All for Children with 30% of each sale going to the project. All for Children is H&M's biggest project with UNICEF to date and aims to improve the situation of children who live in the cotton-producing regions of southern India. The project will run for five years, from its start in 2009, and has a budget of $4.5 million. A fourth bag, designed by another famous illustrator will arrive in store in August, and will also be sold to benefit All for Children.

It's not long until summer, and this year's WaterAid collection at H&M is full of bikinis in aquatic colours to make you dream of summer holidays, while dip-dyed shorts for men and slogan T-shirts add a fashion twist. The swimwear collection for women is an explosion of vivid colours that gives it a real summer feel. Batik-style bikinis for girls and sporty shorts with colourful prints for boys are also part of the collection, and from every item bought, 10% of sales will go directly to WaterAid.