Esprit brings back the 80's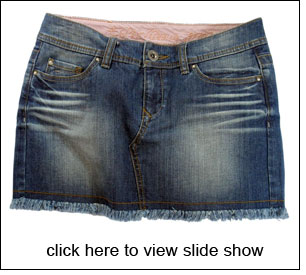 Retrofuturistic design is back this season. Whether it is Micheal Jackson's famous red jacket from the 80's hit track 'Beat It' or Madonna's fashion incarnation in 'Just like a Prayer'. 80's is synonymous with the birth of pop and the uprising of punk culture, and experimentation!

This summer, relive the 80's with bold and rebellious designs and fashion from Esprit! Experiment your way through the season with a collection inspired by the era of color, volume, and versatility.

Esprit's 80's fashion for Men reflects punk, street culture with acid-washed jeans and denim jackets, oversized t-Shirts, Parkas, and Extra long blazers that can be teamed up with the denims for a look of laidback sophistication.

Inspired by pop legend Madonna's effervescent style,the ladies can add a touch of siren glamour by teaming up denim skirts with leggings, bold and dramatic tops and slim denims in colours of the season; orange, grass green, bright red and shades of berry.

For those with a 'Yuppie' sense of fashion, 'Esprit Women 80's Casual' has a collection that will bring to you a sense of Déjà vu. Attractive, luxuriant and narcissistic, this line gets a gypsy touch with tunic-style dresses along with earthy looking skirts. Esprit brings cropped pants, chinos and boyfriend jeans that add a touch of nostalgia.

If you want to bring the house down and make heads turn, try the 'Esprit Women 80's collection'. Edgy, playful and perfect for a night out, the range offers a variety of options from architecturally defined shapes to bold prints to single-breasted blazers, trench coats, feminine blouses, and safari-themed jackets. Smoky pastels, warm bicolours, tinted grays, and bright red gives an opportunity to keep it slinky.

Being true to the bold and experimental era, Esprit EDC revives the spirit of the 80's, with crisp white tops, Oversized soft jersey t-shirts, bandeaus, and leggings. New denims take on the leading role for summer 2010 with slim silhouettes in bright, extra-light washings and vintage washed effects for that attitude in your clothes.

Esprit 80's Men Casual spells a look that's breezy, athletic, casual, and is perfect for a chilled out summer. This range consists of Casual field jackets, innovative Blouson shapes and Denim jackets, Bermuda shorts and T-shirts for a comfort stretch. The colour scale plays with the environmental green tones accompanied by new shades of purple along with summer darks,brown and beige.

Esprit 80's Men Collection presents an urban crossover look for the month of April with retro styled blazers with fine stripes or cardigans that make power dressing seem effortless. Striped knit sweaters, smart single-breasted blazers, Madras checks in bright colours define the rebellious era and make it a fashionable experience. Men's collection includes sea tones and coral red pair with smoky olive, beige, and gray mélanges that adds to the retro quotient.