First Communion attire for Bridal Fashion Exhibition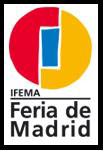 Everything is now ready for the staging of the eighth edition of MADRID NOVIAS, the International Bridal Fashion Exhibition, next week in Hall 14.1 at Feria de Madrid. Between 6th and 9th May, this fair, which is organised by IFEMA, will bring together the very best ideas in wedding fashion (for both brides and bridegrooms), not to mention party-wear and First Communion attire for the Year2011 Season, based on the products and services of some 132 companies and brands.

On 6th and 7th May, the fair's Fashion Show, known as CIBELES MADRID NOVIAS, will present the collections of 28 designers in Hall 14.1, an initiative staged to coincide with the trade activity at the fair itself.

At CIBELES MADRID NOVIAS, the fair will once again bring together a number of great names and brands from the current fashion scene, such as Hannibal Laguna, Elio Berhanyer, Devota & Lomba, Duyos, Miquel Suay, Carlos Haro and Novissima. They will be accompanied at this edition by Joaquim Verdú, Rubén Perlotti, Agatha Ruiz de la Prada, Javier Arnáiz, Marcos Marrero-María Díaz (M&M), Mercedes Alonso and Francis Montesinos.

Specifically, Agatha Ruiz de la Prada will play a prominent role, alongside Hortensia Maeso for Rubio Kids, Barcarola and Miquel Suay, in one of the most important new features at this edition of the fair: the staging of the first fashion parade for First Communion attire ever held in Spain. This event will take place on 7th May at 4.00 p.m.

In short, MADRID NOVIAS will continue to consolidate its role as the most important wedding fashion fair in Spain, an event that brings together the majority of the most prestigious designers within Spain's wedding fashion sector.

Ideas Packed with Delicate Appeal and Sophistication
If the first previews offered by the participating designers are anything to go by, organza, subtle gauze fabrics, Mikado and exquisite Spanish silk lacework are just some of the materials that will predominate in the bridal creations for next 2011 Season, alongside silk gauze, satin and sumptuous Chantilly lace. The details will include braided cord appliqués, edging with silk or silver thread, hand-painted flowers and strass applications.

The predominant shapes and cuts will present a highly elegant bride, one who has an extremely romantic side and a strong character. Strapless necklines, fishtail styles, enveloping shapes and superimposed effects that permit unrestricted movement, all open up a new range of possibilities. Colours will veer away from pure white, with natural shades, bone-white and beige all gaining ground, although we will also come across more intense nuances and touches of honey yellow and gold.

With regard to First Communion attire, natural materials such as silk, tulle and gauze will predominate, featuring half-leg lengths and three-quarter sleeves. Pleats, gathered effects, camisoles and embroidery will also feature prominently alongside straight cuts and sober lines, but with white and natural shades being the common denominator in all designs, divested of colourful touches.