PUMA announces 'Africa Unity Experience'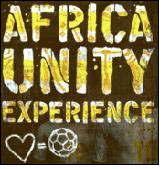 PUMA announced it will host the 'Africa Unity Experience' in Paris from May 28-29 as the brand's kick-off for World Cup(TM). Three PUMA-sponsored African Federations-Cameroon, Ivory Coast and Ghana-will participate in a series of high impact 'Unity' events to generate fan support, build consumer engagement in advance of South Africa and raise funds and awareness for the United Nations Environment Programme (UNEP) and PUMA's 2010 International Year of Biodiversity project 'Play For Life'. PUMA is the proud sponsor of seven football teams qualified for the World Cup 2010(TM), four of which hail from Africa.

One of the most visible activities taking place during Africa Unity Experience is the Africa Unity Exhibition Game on Friday, May 28 at 18:00, where players from the Cameroon, Ghana and Ivory Coast Federations will participate in an exhibition match in front of a capacity crowd at the Stade Michel Hidalgo in Saint-Gratien outside Paris. PUMA's breakthrough Africa Unity Kit-the first-ever continental kit, designed to be worn as a third uniform for PUMA's 13 African football teams-will be showcased throughout the Africa Unity Exhibition Game.

PUMA will kick off the game with a 'Play For Life' Fundraising Parcour incorporating some of Africa's most renowned players including Cameroon captain Samuel Eto'o. Each skills rotation will feature a real-time fundraising mechanic, determining PUMA's parcour donation for UNEP's 2010 International Year of Biodiversity. The better they perform, the more money the players will generate to help support biodiversity programs in Africa.

The Africa Unity Experience then culminates in a free concert sponsored by PUMA and curated by Africa Express on Friday, May 28 at 19:30 at La Cigale in the 18th arrondisement. Africa Express is a collective of African and Western musicians with the mission to bring African music to a wider audience. Musicians from across Africa have been invited to represent their national African football team, underscoring the Unity message. Along with collaborations and special guests, the headliners include Tiken Jah Fakoly (Ivory Coast), M3NSA and M.ANIFEST (Ghana), Les Nubians (Cameroon) and Amazigh Kateb (Algeria). Additionally, PUMA footballers and Hollywood actor Djimon Hounsou will make a special appearance during the concert.

"We're excited to host the Africa Unity Experience-PUMA's official send-off to the African teams who are World Cup(TM) bound," said Jochen Zeitz, Chairman and CEO, PUMA AG. "It is through events like these that PUMA's positioning as a sportlifestyle brand really comes to life. It represents the perfect marriage of sport and music and culture, bringing the Unity message into focus. With our partner UNEP, and with the full support of the African Football Federations, we hope to raise awareness and interest in the topic of biodiversity through our activities during Africa Unity Experience event."

On Saturday, May 29, the activities conclude with the PUMA-Intersport Africa Unity Experience Camp, where winners from an Intersport consumer contest will have a chance to go toe-to-toe with current PUMA players and African football legends such as Roger Milla and Tony Yeboah, in a series of skills challenges. These exciting fan engagement opportunities-part football, part festival, all PUMA-will create a truly inclusive and memorable experience.