Semi-finalists for Pantene Hair Star Contest announced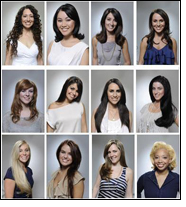 Pantene, the iconic brand known for memorable advertising tag lines such as "don't hate me because I'm beautiful" and "hair so healthy it shines", announced the 12 semi-finalists in the search for the world's first reality hair star. The winner will have the chance to put New Pantene to the ultimate test live in the world's first reality hair ad alongside Pantene's current spokesperson, Stacy London. This game-changing ad will air on May 25, 2010 between 9 and 10PM EDT during a three network roadblock which includes Bravo Media, Oxygen Media and NBC's season finale of "The Biggest Loser: Couples."

The follow is a list of the 12 semi-finalists:

Andrea Warner, Age: 32, Hometown: Vancouver, British Columbia
Andrea is a photographer.

"I've been a Pantene user for some time, so I am very excited to be chosen as a semi-finalist to be Pantene's First Reality Hair Star," said Andrea.

Colleen Harju, Age: 23, Hometown: Carver, Massachusetts
Colleen is a licensed esthetician and makeup artist.

"I could be the first Pantene Reality Hair Star," said Colleen. "I have always had beautiful, long, thick hair and now I am ready to make it Pantene fabulous!"

Huda Mumin, Age: 28, Hometown: Oxon Hill, Maryland
Huda works as a chef in the Oxon Hill area.

"I am a loyal Pantene user. I have big hair to go along with my big personality," said Huda. "Pantene has helped my natural beauty to shine."

Kaitlin Voorhest, Age: 20, Hometown: Orlando, Florida
Kaitlin is currently a full-time student.

"I should be Pantene's First Reality Hair Star because my hair is tough to handle, but I work to keep it looking great," said Kaitlin. "My hair is one of my favorite features and I take pride in making it look nice."

Kirsten Norman, Age: 19, Hometown: Pinellas Park, Florida
Kirsten is currently employed at a pizza shop.

"I never thought I would make it this far in the contest," said Kirsten. "I have one dreadlock mixed in with the rest of my hair, so my hair has always been different. I am eager to use the new Pantene to see what it can do to keep my unique look frizz-free and polished."

Lindsay Delgrosso, Age: 18, Hometown: East Amherst, New York
Lindsay is currently a full-time Communication student at Niagara University.

"Pantene's First Reality Hair Star Contest intrigued me and truly challenged my creative abilities," said Lindsay. "What makes my hair Pantene hair is that it is a huge part of who I am, after all isn't that what Pantene hair is all about?"

Marissa Hopson, Age: 24, Hometown: Ft. Lauderdale, Florida
Marissa is currently a full time Broadcast Journalism student.

"I am a huge fan of Pantene," said Marissa. "Pantene makes my hair so soft; I've been using it since I was a kid. I'm excited to put the new collection to the test."

Mercedes Sanchez, Age: 27, Hometown: New York, New York
Mercedes is the founder of BeChicMag.com, an online magazine and lifestyle channel featuring prominent experts in fashion, beauty, and entertainment.