Centrepoint launches a deluge of styles this Summer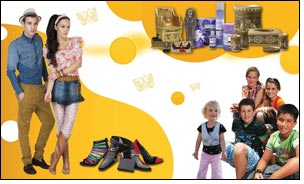 Centrepoint, the one stop popular shopping destination in Kuwait welcomes the summer with bright colors and a wide ranging themes creating a multitude of choices and looks. While keeping in line with international fashion trends the popular fashion retail brand has given a spin to styles across all concepts providing chic fashion to the discerning customer.

This summer, Splash unveils its collection featuring five main themes of New Uniform, Neo-Admirals for men, Apocalyptic Tribal for women, Country Rodeo and 'I went Camping'. Splash's New Uniform Line offers a twist to the lovers of minimalistic fashion. Clean edges and devoid of fastenings; it's a return to precise and simple forms. The neat cuts convey a strong functional feel, while the certified styles for women have an uniquely androgynous appeal.

The Apocalyptic Tribal is a collection for women only with a touch of Mediterranean this season with its collection of Toga dresses, which are suitable for almost all body types. The color palette favors warm colors ranging from warm brown to sulphur yellow, hazelnut, sienna and khaki. The Neo Admirals imply a look of naval neatness and maritime style showcasing Appliqué tees, pinstripe shirts, blazers with crests and formal shorts with the Yatching lifestyle strongly influencing the graphics of this line. As a salute to the outdoors, Splash introduces the 'I went Camping' line which generates visual images of outdoor fun and play. This range has casual wear such as cotton shirts, cargo shorts, distressed jeans and tees bearing fun camping slogans and other details like appliqué and badges.

Juniors collection showcases a wide variety of bold colors with a strong emphasis on shades of red, blue, yellows and even greens. There are fabric combinations with detailing, using a variety of materials including sequins, glitter prints, etc. For girls there is a strong presence of printed fabrics which play a vital role this season in the form of floral's, polka dots and stripes available in a variety of different hues. From basic styles to the latest trends, the new Juniors collection available at Centrepoint will suit your child's individual personality and attitude.

Summer is traditionally a time to stay in and stay cool. After a long and sweaty day out and about there is nothing that one looks forward to more than a lovely bath followed by a good night's rest. Lifestyle launches its latest summer range for both bedding and bath accessories that in beautiful and delightful designs; is perfect for all homes. Find a place in your home for these perfect pieces, and delight in the simple but blissful things this season. If you have always been intrigued by the old and ancient Egyptian artifacts, you would be pleased to know that Lifestyle is launching a beautiful reproduction of Egyptian Artifacts and Statues of Gods and Goddesses, Kings and Queens of the early and middle ages of the Egyptian Empire. The collection is beautifully designed with detailed replication and hand painting, making them a brilliant addition to any home.