Boy meets girl, Macy's jumps into back-to-school season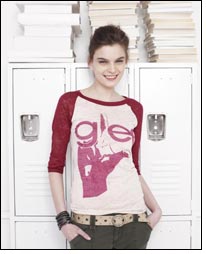 Macy's announced aggressive new back-to-school efforts that will position the retailer as the shopping destination for tweens, teens and college coeds readying for the new school year. The robust initiatives include the launch of "Material Girl" by Madonna and her daughter Lola, a new young men's fashion brand, line extensions for three current juniors brands, exclusive "Glee"- branded product, a new mstylelab sitelet for teens, and a partnership with Microsoft for an exclusive preview of the revolutionary Kinect for Xbox 360.

"We have an incredible line-up of newness and excitement for back-to-school this season, including great new brands, the latest fashion trends, a new content and social online fashion community and a unique partnership with Xbox to preview it's yet-to-be-released Kinect gaming in select stores," saidMartine Reardon, executive vice president of Marketing for Macy's. "Macy's will be extremely competitive as a fashion and lifestyle destination for today's trend- and tech-savvy teen."

New Celebrity collections for Juniors

Jessica Simpson
Singer, actress and designer Jessica Simpson is extending her current Jessica Simpson collection from shoes, handbags and jewelry, to ready-to-wear items for juniors. This July you will see fashion denim, knits and wovens in 225 Macy's stores and on macys.com. Just like Jessica, this collection is for the girl who loves to dress casual, but still be stylish and contemporary.

Material Girl
"Material Girl" is a newly created, fast-fashion junior collection that will launch exclusively in approximately 200 Macy's stores and online at macys.com on August 3, 2010 for the back-to-school season. The "Material Girl" collection was inspired and designed in collaboration with Madonna and her daughter Lola and is for the spontaneous and fearless individual who invents her own fashion trends and is never afraid to make a bold, creative statement. The collection will consist of apparel, footwear, handbags and jewelry.

Kouture by Kimora
Celebrity fashion designer Kimora Lee Simmons recently launched a new line - Kouture by Kimora - exclusively at 300 Macy's stores nationwide. Geared toward the global juniors consumer, Kouture by Kimora offers chic fashions aimed at the budget fashionista and provides body-loving looks with all the eye-catching embellishments and fabrications of today's trends. Vibrant colors and energetic prints reflect Kimora's signature flair and sense of confidence. Appealing to trend lovers, this youthful brand captures the attention of young women who value styling as much as they do smart spending.

What's new for Back-To-School

From the runway to the closet, Macy's continues to offer the hottest trends from celebrity designers to updated essentials including new exclusive collections like:

Glee
"Gleeks" will be singing for joy this August, as "Glee"-brandedtees and hoodies are sold exclusively at Macy's stores nationwide. Be the first to get your hands on the hit show's product before the next season begins in September 2010.