CURVENY NY boasts increase in number of swimwear brands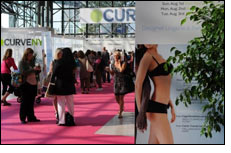 The dynamic and upbeat tone of the activity at CURVENY New York the past three days was a result of the combined retail success of 2010 and brands that surpassed themselves in both creativity and quality. Each not only exceeded market expectations, but catered to the year's current market requirements.

A positive outlook has returned with the Spring/Summer 2011 collections showcased at CURVENY New York, which include the very important Valentine's Day peak time for the lingerie world.

Vendors, designers and merchandising teams worked extremely hard in coming up with collections that offer new colors, textures, techniques and performances. New product categories were presented in a subtle way that is sure to feed the appetite of consumers who desire freshness and real content.

This demand was accompanied by the entrance of many new brands across a wide range of segments, including: Top Secret, Anna Maria La Bianca, Frankie and Johnny, Claridge and King, Pretty Polly, Royce, Cantaloop, Bassoni, Dorit, SAXX Apparel and Juicy Couture, to name a few. These brands further demonstrate the exciting, dynamic nature of the industry and received excellent feedback from the buyers at CURVENY New York.

The entire retail industry worked the diverse CURVENY New York floor for many hours and days. From major department stores such as Macy's, Nordstrom, Saks Fifth Avenue, Neiman Marcus, Dillards and JC Penney, to online stores such as Bare Necessities and Her Room, and to numerous specialty stores deriving from the Northeast, Mid-Atlantic, South and Midwest – leading buyers have now made CURVENY New York their three-day "home".

The quality of buyers exceeded the quality of previous years, while the quantity was on par with CURVENY New York last August with almost 3,000 visitors. Among these visitors, 13 percent came from abroad, mainly from Canada and South America. This proves the growing importance of the North American market offerings within the entire fashion world.

The new partnership between CURVExpo and the Council of Fashion Designers of America (CFDA) and Fashion Targets Breast Cancer (FTBC) was celebrated at the kickoff event, "Party for a Cause", with prominent members of the CFDA and the industry including Betsey Johnson, Carole Hochman and Josie Natori.

At the event, these individuals toasted CURVExpo's efforts in bringing the industry to the forefront of the fashion world, placing the CURVExpo community into such an elite organization and joining forces for a great cause. Both vendors and retailers are eager to become active supporters and have agreed to become a part of something that touches all of us. The 2011 CURVE/CFDA-FTBC campaign will be disclosed by the end of this year.

CURVENY New York also boasted an increase in the number of swimwear brands, with 26 now exhibiting. Seeking a classy environment for their collections, these brands find it obvious to join The Designer Lingerie and Swim Show, which takes place at the same time as the New York Swim Market Week. After the launch of the Las Vegas Swim Fashion Week this upcoming August 2010 at CURVENV Las Vegas, we are pleased to announce that CURVENY New York August 2011 will launch its own New York Swim Fashion Week on July 31, August 1 and August 2.