Brynn Capella presents Chicago in American-Made Handbag Collection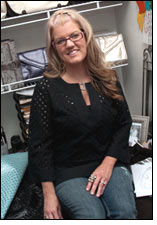 Sometimes the key to looking fashionable is not taking yourself so seriously, and that's exactly what this self-taught entrepreneur does. Think about it… a handbag is a uniquely personal accessory. It would be nearly impossible to please everybody, but Brynn Capella has got it figured out… affordably too.

Always an independent and creative spirit, it was no surprise to friends and family when Brynn turned her hobby into a business. Since she launched her self-titled handbag collection, Brynn has done her research; from sourcing high quality leather to the finest satin finished hardware and everything in between, but keeps her margins low to pass the savings on to her customer. In 2006, she bid farewell to her "9-to-5" and by 2009 signed with her first showroom.

Over these past four years, she has created a variety of styles and sizes that effortlessly transition wardrobes from day-to-night and season-to-season. From her downtown carry-all tote to a hip versatile cross-body bag to the very popular wristlet, no detail is left undone from her stylish studs to the large bag feet. Brynn also loves vintage and brushed leathers that get better, softer and more personal with age.

Brynn believes that nothing pulls your look together better than the perfect handbag, especially pieces that reflect current styles yet stand the test of time. These "look good feel good" Italian leather handbags add a classic elegance to your everyday casual without making a serious impact on your wallet.

From her days spent as a youth in Orange County, her twenties in San Diego, to her thirties in L.A. and Chicago, it is easy to see where this California native gets the inspiration for her beautifully crafted, laid-back, functional handbags. Even though she lived most of her life in a warm weather state, Brynn quickly embraced the crisp, chill air and rich bold hues of the cooler Chicago seasons. "Although I never thought I would leave California, over these last seven winters I have truly come to appreciate all the seasons that the Midwest has to offer."

With the support of the Chicago Office of Tourism and the Mayor's Fashion Council, Brynn along with several other designers have been able to continue to do what they love. Her Cityscape Collection truly embraces this passion for the Chicago city life that has become as much a home to her as the California beaches. Her newfound love of historical brownstone structures and breathtaking aerial views from the tops of modern luxury skyscrapers has helped create a collection representative of Chicago At Its Best.

This All-American designer not only enjoys a loyal following from coast-to-coast, but many celebrities have fallen in love too. From the flashy style of "California gurl" Katy Perry to one of the latest New York City Stylistas', Whitney Port, Brynn has been able to bridge the gap between trendy and timeless. Her bags have already hit the red carpet and recently she wascontacted by Bravo Show Millionaire Matchmaker to feature her bags on their hit production.