Saran Kohli fuses modern urban style with British tailoring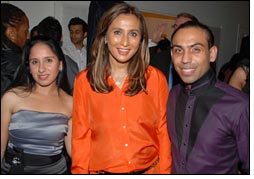 Having already established his name in London's music scene, designer and stylist Saran Kohli debuted his musically inspired urban collection of bespoke menswear in New York City on August 26, 2010.

Featured on MTV Europe and MTV Asia's show, Style Guru, and written about in a number of British papers and magazines, the young designer's line consists of a full-range of menswear including trousers, shirts, ties, hoodies and shoes.

However, the Saran Kohli brand is most recognized for its distinctive style of jackets that can best be described as a fusion of impeccable English silhouettes with an urban vibe. The signature slim cuts are conceived in luxurious Italian fabrics of silk, wool, velvet and jacquard and seem to be favored most by musicians and actors. Artists who have been recently photographed in Saran Kohli's line include Jay Sean, Fugitive, Mumzy Stranger, DJ Ironic, DJ Friction (Wu Tang, Drake), H Dhami (The Rishi Rich Project), Juggy D, Ameet Chana (Bend it Like Beckham), Bikram Singh, The Truth and Bobby Wonda, amongst others.

In 2009, Saran worked with Jay Sean to develop a personalized line for the singer, which also resulted in a collaborative photoshoot between the two artists.

The Launch included a fashion presentation that showcased the designer's collection of a bespoke suits, vests, shoes and jackets. was well attended by a number of friends and supporters and included a red carpet with many well known names in the music and entertainment spheres. The guest list included Vidur Kapur, Manu Narayan, Brad Boles, Meera Gandhi, Jay Dabhi, Samrat Chakrabarti, Meetu Chilana, Purva Bedi, Vijay Iyer, Bikram Singh, The Kominas and Zerobridge amongst others in the fashion and media industries.

Saran says, "I think New York is one of the greatest cities in the world for fashion and music, and I always knew that my line would fit this city's incredible vibe. I'm grateful that so many people came out to support my launch, and I'm looking forward to many new collaborations in the near future."

The son of legendary South Asian designer Mani Kohli of Khubsoorat Collection, Saran has been involved in the fashion world since a very young age. Saran trained his eye for style while assisting the brand's celebrity clientele including Bollywood actors, members of the English royal family, Middle Eastern royalty and international socialites. In 2008, he received his B.A (Hons) Graduate from London College of Fashion in Fashion Management and was quickly tapped by Japanese designer Michiko Koshino as a PR/Marketing assistant. Hugo Boss came next as he was headhunted for a position in sales and later promoted to Hugo Boss Red/ Black Collection Analyst. Saran later served as a Menswear Personal Stylist/Customer Relations for VIP clients of Banana Republic's London flagship store.

Saran is also a well-respected dance choreographer and performer who formed the dance group "Snach" at the ageof 17. Since then, Snach has been commissioned to perform all over the UK as well as in New York City and India, working with a number of well-respected musicians and featured in their music videos. Today, the designer continues his involvement with Snach choosing to work with the youth to promote urban dance culture.