'Let's Go Adventuring' is new for Playtime New York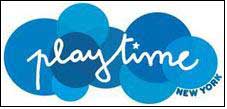 Playtime New York, the international trade show dedicated to universes of children, junior and maternity, is planning an array of special exhibits and activities for its second show, March 5 – 7, 2011, at SoHo's 82 Mercer (82 Mercer Street between Spring and Broome Streets).

Among the attractions will be a special Pop-Up Shop, art exhibits, trends space and more, complemented by Playtime's signature sophisticated yet whimsical ambiance. As a special convenience for visitors, the show will also operate a complimentary shuttle service between 82 Mercer and the Jacob Javits Center.

Exhibiting this season for the first time are Bobo Choses, Bora Bora Baby, Caramelbaby&Child, Earthnoodles, Eeboo, Elks & Angels, I Am, Kina Collections, Kutie Protocol, La.Tribbu, Lalas Pequenos, Lale, Lamantine, Little Packrats, Mirasa Design, Nui Organics, Overall Baby, Seven Smooches, Sono Vaso, Winter Water Factory, Wooly Boo, Zolima, among others.

Returning brands include Agua By Trash-A-Porter, Areaware, Atsuyo et Akiko, Clover New York, Coral & Tusk, Easy Peasy, Goatmilk, H Luv Fabrications, Honeyami, Ketiketa, Kicokids, Little Lief, Makié, Nico Nico Clothing, Wovenplay, and more.

"Let's Go Adventuring"
Every season, a new theme is chosen for the Paris, Tokyo and New York shows, which is in step with and reflecting current events, the trend spaces, illustrated by artists, and expresses itself throughout all the artistic installations at the shows.

"Let's Go Adventuring" is the new for this next edition … up and down the aisles at the show visitors will journey into the world but also within themselves, somewhere between dreaming and reality.

Playtime Pop-Up Shop
New this season, the Playtime Pop Up Shop will provide show visitors and consumers alike with the opportunity to purchase goods directly from exhibitors, at one convenient store-like environment. In addition, the special space will allow retailers to see the exhibitors' products merchandized in a unique way.

The Exhibitions
French artist Cyril Le Van, using his preferred technique of printing on canvas, has created for Playtime a series of African masks for our seasonal theme. This is a must-see, look for it at the entrance to the show.

Trends
With children's fashion consultant Julie Malait, visitors go adventuring to the four corners of the world, a stylish and fantastic journey. Every season both established and new artists work together to create the Trend Spaces. There they present works specially created for Playtime in installations linking art with new trends. This season's three trends are sound, light and color.

The PlayGuide
With its three editions per season, in Paris, Tokyo and New York, Playtime covers the largest world network for professional trade show specializing in the worlds of babies, children and maternity.

The PlayGuide was create to accompany visitors in each of the show's three cities. For each edition, invited personalities reveal their favorite places, useful addresses and little known gems in their hometowns. In New York: vintage retailer Laura Wills, fashion journalist Lynn Yaeger and designer Tom Scott offer their best suggestions. For Paris, designers Chantal Thomass, Ora-Ito and Gabriella Cortese as well as artist Nathalie Lété reveal their picks and in Tokyo: designer Kenzo Takada, Oscar-winning author Kundo Koyama and tennis star Shigeyuki Nishio share their hotspots.