Colombo Fashion Week invites Kimaya Fashions' Chairman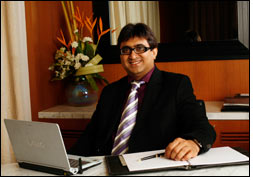 Kimaya has consistently emerged as the biggest buyer at the Indian Fashion weeks since inception in 2002. Having over 150 of the top designers from the country all under one roof, the brand continues to extend its repertoire of international labels in additional to Rohit Bal , Tarun Tahiliani, Manish Arora, JJ Valaya, Rocky S, Manish Malhotra, Anamika Khanna, Malini Ramani, Gauri Nainika, Ranna Gill, Rina Dhaka, Shantanu and Nikhil, Falguni Shane Peacock, Narendra Kumar, Rajesh Pratap Singh, Rohit Gandhi and Rahul Khanna, Gaurav Gupta, Pinko, MaxMara, Versus, R.E.D Valentino, Trussardi, Miss Sixty, and Paulo Ferrari etc.

Being the only Indian buyer to be invited to international fashion weeks of London, Paris, Milan, Durban, Malaysia, Tokyo, Dubai, Sao paolo (brazil) Argentina, Karachi, Lahore, Hongkong, Colombo,etc., Chairman Pradeep and wife Neha Hirani of Kimaya Fashions Pvt. Ltd. continue to mark a flattering presence at almost all fashion weeks that they have been a part of. Thus, the duo represents the country as the most important buyers on the international circuit in addition to the domestic ones.

Pradeep Hirani, being the on the forefront of the fashion fraternity in India, has yet again been specially invited to Sri Lanka for the Colombo Fashion Week that commences from February 4th to 6th 2011.

This CFW promises the glitter and grandeur with its Spring Summer and Resort wear collections and Pradeep is anticipating an exquisite showcase of fresh emerging talent at this event. With the enormous success from Colombo based designer, Ajaiy Vir Singh's line 'Stringhopper', which is presently retailed through Kimaya stores in India, Pradeep believes that the Sri Lankan sensibility of design is very much in sync and refined to the Indian consumer's taste.

And with over 30 designers participating this season, he is expecting to see a plethora of ingenuity of fashion and believes that there is a potential of picking new designers from CFW to be part of Kimaya's extensive designer board.

Pradeep is of the belief, that Sri Lanka is currently experiencing immense sense of optimism and growth and is definitely poised to be one of the most influential nations in South Asia. "Its close proximity to India and its strategic location in the region makes it a perfect hub for fashion in the region," says Hirani.

A pioneer in the Indian fashion industry, Kimaya delivers an uber-luxurious fashion experience, and is the only multi designer store has been instrumental over the years in not only popularizing Indian fashion to the world but is also responsible for creating an ideal platform for International designers within the country. Hirani's vision is to create a global platform for fashion and incorporating talent and creativity from the world over. Pradeep is efforts in this area are undying and his recent visit to the Japan Fashion Week is yet another testimony to it.

Post the JFW, PradeepHirnai has been instrumental to a large extent in promoting Japanese designers in India as well as fostering a strong relationship between both nations that will reap mutual benefits eventually.