Four accessory designers to show their collections @ LFW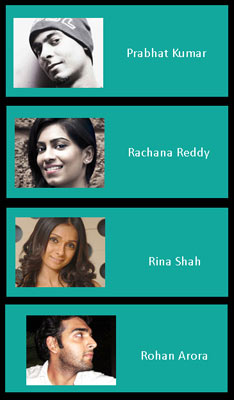 Four creative accessory designers gave unique touches to their collections for summer/resort 2011 at Lakmé Fashion Week.

PRABHAT KUMAR
It was a concept collection for the future inspired by aerodynamics, speed and unconventional ideas. Prabhat Kumar brought in innovative touches like reptile prints and embosses for the Summer/Resort 2011 season for leather bags, using cow and sheep nappa with waterproof lining which had the classic high fashion look.

Called "Haute off the Ramp" the collapsible backpacks, clutches, small bags, sling ones were created in reptile prints or with laser cuts and fish motifs embossed in colours that ranged from grey, white, tan, green, orange, blue and red. Spacious and very well finished the bags will be a great addition to stylish wardrobes with buyers who appreciate oceanic nature.

RACHNA REDDY
Giving a colourful nomadic feel to her leather and wooden clutches, Rachana Reddy's "Global Gypsy" collection was a riot of intricate symbols colours and motifs inspired by tribal art forms around the world. The detailing on the bags was etched and carved to blend beautifully with the fabrics and leather in vibrant colours. Taking touches of ancient cultures the line had a great universal appeal that will thrill fashion watchers.

The collection comprised mainly bags in fan, rectangular, oval and pill box shapes, all very daintily created. Moving from the clutch shape to the cute sling bags with delicate handles, the collection total a total evening accessory story that will match both ethnic and western wear.

RINA SHAH OF RINALDI
Her love for horses and Polo inspired Rina Shah of Rinaldi to create her "Rinaldi Polo" line which was a sporty chic collection. Her distinct designing touches were visible in the use of crystals and coloured stones as well as polo prints on the oversized bags.

Satchels, calf and thigh high boots trimmed with feathers and Bamboo handles added the right rugged touches. The inspiration was also reflected in the saddle bags with trimmings, spur straps, reins and handles, which matched the belts with horse buckles. Working with aqua, turquoise, green yellow, gold, brown and pink; Rina presented an unusual and stylish collection of bags and footwear ideal for making unique fashion statements.

Using vibrant embellishments for the footwear and bags featuring scenes from the sport, the collection was stunning in visual appeal on the ramp and will be a hit on the fashion charts. Ending the show with three top polo players, Angad Kalan, Kamran Ahmed and Shrinivas Bobade, Rina Shah's "Rinaldi Polo" line will work for lovers of high fashion bags and footwear.

ROHAN ARORA
Using Inflation as his theme, Rohan Arora presented a two part collection called "Kal Aaj Aur Kal" featuring riches to rags story for footwear. Embroidered shoes with hand painted heels strutted down the ramp. The paintings reflected the lifestyles of the rich and famous - parties, beaches, jewellery.