Emma Walters wins Triumph Inspiration Awards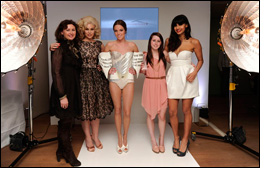 Lingerie designed by a De Montfort University (DMU) student has won the UK final of the Triumph Inspiration Awards (TIA) and now goes on to the global final in Germany.

For the fourth consecutive year Triumph International, one of the world's leading lingerie and shapewear brands, invited students from the UK's top fashion and contour design schools, DMU in Leicester and London College of Fashion, to take part in this prestigious design contest.

Winning student Emma Walters, 21, from Leicester, said: "My garment, entitled 'Liberation' is actually two garments in one. The model walks on to the catwalk in a traditional style corset representing how Victorian women used to be constricted in every aspect of their life.

"The corset then opens from a heart locket shape to form the silhouette of an angel that commemorates women's fight to overcome all their restrictions and achieve freedom and equality over the past 125 years. Underneath the corset a body piece is revealed that celebrates the modern woman of today," said Emma, who is studying DMU's fashion and contour course.

"The outer corset is made from plastic which I vacuum formed over a mannequin with lace, boning and cording. This gave an embossed effect; so a traditional corset was made; but out of plastic. I then spray painted the corset through a floral lace.

"The body piece underneath was made from organza, overlaid onto cotton and silk. The 3D strips crossing the body diagonally, were made from twisted leather. I used the technique of flocking to achieve the text on the cup and the larger words on the wings were laser cut from leather."

Judges Jameela Jamil, Angela Buttolp (Grazia), stylist Charlotte Stockdale, German design duo Felder Felder and Triumph's UK product Manager, Jane Fenlon-Smith reached a unanimous decision based upon innovation, creativity, concept and aesthetic translation of this year's theme '125 years of Celebrating Women' to mark the 125 year anniversary of the brand.

The catwalk show was showcased in the apartment of stylist Charlotte Stockdale, featured recently in Vogue magazine.

Of the initial 92 entrants, Emma will go on to represent the UK at the global final in Berlin on 6 July during Berlin Fashion Week along with 36 other international finalists.

Fellow DMU student, Pim Bencharit, 20, from Thailand, was awarded third place in the UK final for her lingerie design entitled 'Soft Cage'.

Pim's design of a bra and brief set also utilised plastic and stringed threads to create a futuristic and highly creative design.

Pim said: "I feel that this is one of the greatest achievements I have made and I think this will be one of the factors which really help boost my career opportunities when I graduate."

The global winner will receive a €15,000 prize and will work with the Triumph design team to develop their showpiece into a commercial garment to be sold in selectedshops around the world.