NEWGEN MEN winners for SS12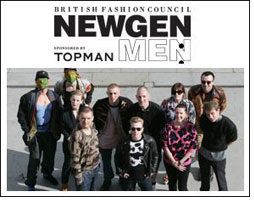 The British Fashion Council (BFC) has announced that eight of London's most exciting emerging menswear fashion design talents will receive sponsorship from its designer support initiative NEWGEN MEN sponsored by TOPMAN. All recipients will receive business support and the opportunity to use the official BFC venue to host either a catwalk show, presentation or an installation during London Fashion Week's (LFW) Menswear Day, on Wednesday 21st September.

IMAGE GALLERY from the announcement party
The recipients of NEWGEN MEN, sponsored by TOPMAN, spring/summer 2012 are:

Catwalk sponsorship (shows will take place in the BFC Show Space):
Christopher Shannon and James Long

Salon Show Presentation sponsorship:
J.W. Anderson, Lou Dalton and New Power Studio

Installation sponsorship (installations will take place on the Terrace at Somerset House):
Dr Noki, Katie Eary and SIBLING.

NEWGEN MEN began in September 2009, building on TOPMAN and Fashion East Menswear successful MAN initiative. It has since become instrumental in raising the profile of emerging British designers using the dedicated Menswear Day at London Fashion Week as a showcasing platform. As well as sponsorship, the initiative offers its recipients tailored business and mentoring support, with a view to increasing the success of their business commercially and building relationships with key press and buyers. NEWGEN MEN continues to promote the best of British menswear talent for the fifth consecutive season, with ongoing dedicated support from TOPMAN.

Tim Blanks, Contributing Editor, Style.com and a member of the British Fashion Council's Menswear Committee, said "The NEWGEN MEN mix this year testifies to the unique personality that's evolved in British menswear. Aside from the real breadth and depth, I doubt that any other fashion capital could confidently field a men's team with this much quirk."

Gordon Richardson, Design Director, TOPMAN, who was also on the selection panel, adds "This season's line up is testament to the calibre of young menswear designers Britain is producing at present - exceptional talent whom without key initiatives such as LFW Menswear Day, NEWGEN MEN and of course MAN - which kick started this whole resurgence in menswear in London - would not be given the voice of recognition that they so definitely deserve."

New Power Studio was launched by fashion stylist Thom Murphy in 2009. After showcasing their AW11 collection with MAN at London Fashion Week February 2011, New Power Studio will receive NEGEN MEN sponsorship for the first time and will host a salon show presentation in September 2011.

Before setting up his own label, Dr Noki worked with Helen Storey, Whitaker Malem and Owen Gastor from whom he learnt "eco-thinking, arts and crafts and futuristic thinking". Dr Noki's unique style of customisation and creating one-off sustainable pieces has gained him industry-wide recognition. Having shown two previous collections with Fashion East and more recently showcased his NHS collection in Estethica at London Fashion Week, Dr Noki will show his menswear line as an installation on Menswear Day at London Fashion Week.