Human Solutions to host HQ visit during IACDE 2014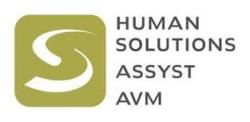 On the occasion of the upcoming World Convention 2014 of the IACDE, the Human Solutions Group is organizing a visit to its headquarters in Kaiserslautern on 6 May this year.
Managing Director Dr. Andreas Seidl will illustrate the parallels between the automotive and the apparel industry in the history of virtual product development. His lecture will be accompanied by demonstrations of the simulation software Vidya, of 3D body scanning and of other topics that are currently being tackled by the industry, such as the "Cloud".
The IACDE (International Association of Clothing Designers and Executives) is a worldwide association of leading model makers and designers. The Association hosts an annual world convention for its members and this year it will take place in Heidelberg, from the 4th thru the 6th of May. "Cooperation and participation: pattern design in the age of virtual media" is the central theme of the meeting.
About the Human Solutions Group
Successful products are customer-oriented and market-driven and the way to get there must be made faster and more cost-efficient. In intensive development sectors like Fashion and Mobility, this can only be achieved through the right product and size & fit information in a continuous process – and the companies of the Human Solutions Group offer the perfect technologies to this end.
Human Solutions