'New govt strategy to revive handloom industry'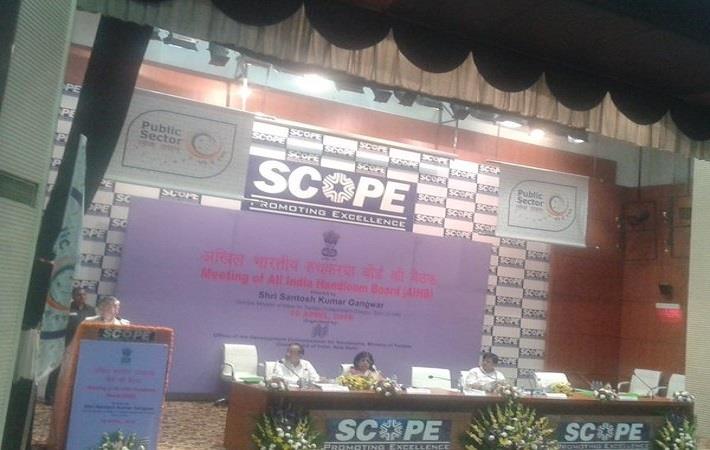 The Government is implementing a new strategy for revival and resurgence of the handloom industry.

At the first meeting of the recently constituted All India Handloom Board in New Delhi on Tuesday, Union Textiles Minister, Santosh Kumar Gangwar said that the new strategy for revival of the handloom industry has the core objective of increasing the earnings of handloom weavers through skill upgradation, loom upgradation, availability of good quality raw material at cheaper rates, availability of adequate credit facilities, product design and development and branding for effective marketing, according to a Textiles Ministry press release.

"We are working with a vision to increase the wages of skilled handloom weavers to the level of Rs. 500/- per day. Our major interventions will be to cover five lakh weavers in MUDRA Scheme in next three years and also to take up 300 more block level clusters for development. We are also aiming to enhance handloom exports from about Rs. 2,500 crore to Rs. 4,500 crore in next three years," Gangwar said.

The Textiles Minister said that the new strategy is demand-driven, so that production can be made according to consumer preferences. He said that the most important initiative in this regard has been the launch of 'India Handloom' Brand, aimed at regaining consumer confidence, through quality endorsement in terms of authenticity, azo-free dyes, and fast colours.

He informed that 'India Handloom' Brand registration has so far been granted to 170 handloom producing agencies and weavers in 41 product categories. Gangwar said that this is being supported through a comprehensive marketing campaign. He said that India Handloom brand producers have reported a sale of more than Rs.15 crore within a period of about four months. A marketing research study is also being undertaken. The Minister also spoke of the open door e-commerce policy framework. He added that more buyer-seller meets would be held, to strengthen marketing linkages.

He said that on the supply side, the Government has significantly expanded its support to handloom clusters, in terms of Common Facility Centres (CFCs), skill upgradation, assistance for loom upgradation and effective project management through services of full time Cluster Development Executives and competent designers. Gangwar recalled that the amount sanctioned for mega clusters in year 2015-16 was highest ever, at Rs. 37.11 crore; further, a record number of 175 block level clusters have been sanctioned in 21 states. The Minister said that a block level cluster can avail financial assistance up to Rs. 2.00 crore. He also highlighted the increased assistance given during FY 2015-'16, in terms of skill upgradation, technology upgradation and CFCs. The Textiles Minister said that the budget utilization for handloom sector in the year 2015-16 was Rs. 591 crore, which is 25 per cent higher than the previous year.