BIDS for higher wages for garment workers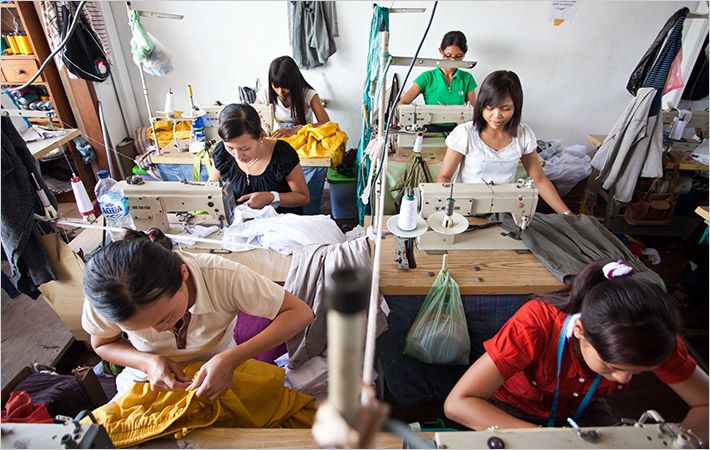 Bangladesh garment workers' real wages have increased but there is scope for a further increase as competitiveness of the $27 billion export-earning sector has not eroded due to a wage spike in 2013, according to a study by Bangladesh Institute of Development Studies (BIDS), a newspaper has reported.

The study calls for participation of global buyers and retailers to improve working conditions so that workers can make a decent living, saying that buyers and retailers take 75-88 per cent margins over the retail prices of an apparel item.

"They cannot avoid their responsibility of sharing part of the cost of social upgrading," said Nazneen Ahmed, senior research fellow of BIDS, who presented the study at a programme -- BIDS Research Almanac 2014-15 in Dhaka. Dev Nathan of New Delhi-based Institute for Human Development co-authored the report.

According to the study, the minimum real wages of garment workers rose 37 per cent in 2013, helping to improve their economic and working conditions.

Citing the fears of entrepreneurs that wages would affect competitiveness, she said the reality is different: an increase in wages and an improvement in working conditions have not resulted in the loss of international competitiveness of Bangladeshi garment manufacturers.

The unit value of garment exports rose 16.86 per cent over the two-decade period of 1990-2009, benefiting entrepreneurs, said Nazneen. The rate was higher than in India, China and Vietnam.

But even after the increases in wages, Bangladesh's minimum wage is less than that in competing countries. Bangladesh's minimum wage of $68 a month is lower than the $80 in Cambodia, $71 in India, $79 in Pakistan and $78 in Vietnam.

Despite improvements in economic and working conditions, she said: "These progresses still do not amount to what the ILO terms 'Decent Work', and the minimum wage in Bangladesh is not yet a living, family wage."

The 2006 price data of some garments showed that the living wage as a percentage of retail was as low as 0.3 per cent to as high as 3 per cent. The living wage was taken at Tk 5,000, ($63) as against the then-existing minimum wage of Tk 1,662 ($21) in 2006, she said.

Speaking at the same function, Planning Minister A H M Mustafa Kamal said that many government and semi-government entities are in the habit of evading taxes, another newspaper reported.

"Instead of paying taxes, some government institutions are filing cases in court when the National Board of Revenue (NBR) asks them to cough up the amount," he said. The Minister added that such acts are hindering overall development of the country.