Dye sublimation print market to reach €3 bn by 2021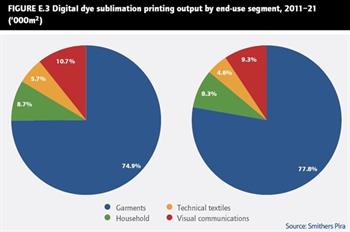 The global dye sublimation print market is expected to more than double in the next five years creating a global market worth nearly 3 billion euros ($3.4 billion) by 2021.

The increase in dye sublimation printing is part of the broader rise of digital inkjet systems in the textile trade, Smithers Pira said in its new report titled Future of Dye Sublimation Printing to 2021. It tracks the increased use of this technology across key end-use segments – signage, technical, household, and garments.

According to the latest exclusive market data from Smithers Pira, which carries out global testing, consulting and information services business on the packaging, paper and print industry supply chains, a strong year-on-year growth is projected in the amount of material printed – 18.4 per cent – over the next five years.

Smithers Pira forecasts that in 2021 nearly 900,000 sq m of textiles will be printed with the process, creating a global market worth nearly €3 billion ($3.4 billion). As the dye sublimation market booms it will create numerous opportunities for ink and textile suppliers, press builders, and partners across the value chain.

In its analysis, Smithers identified five factors that would shape the growth of the dye sublimation print market: Garments, new machines, Italy the key hub, takeovers and pigment inks.

Smithers Pira's data showed that garments – swimwear, sportswear, haute couture, fashion, ties and scarves, and other clothing – represented a clear majority of the market value and volume in 2016. This relative share would increase across the study period (2016-20121).

Greater use of the Dye Sublimation Printing technology will be aided by the fashion industry itself transforming with the arrival of internet shopping and fast-fashion. Already digital textile printing had enabled quicker turnaround and response to orders minimising stock holdings that have resulted in retailers and brands increasingly running a greater number of collections every year.

Dye sublimation and similar digital platforms allow the supply chain to be shortened further and made more flexible, with some manufacturing moving close to the retailers, the report said.

The report, further, pointed towards an interesting variance in the market: while Asia was poised to remain the biggest volume producer of dye sublimation materials, the highest per-unit prices were commanded in Western Europe. The cluster of fashion houses in North Italy had made the region a world centre for development of dye sublimation textile printing. Italian print service providers consequently represent over three quarters of the garment dye sublimation market in Western Europe today.

Other countries have a lead in other segments like signage and household décor; and there are technology hubs across the region, including in Germany, and the UK.