Euratex says textiles a strategic sector in Europe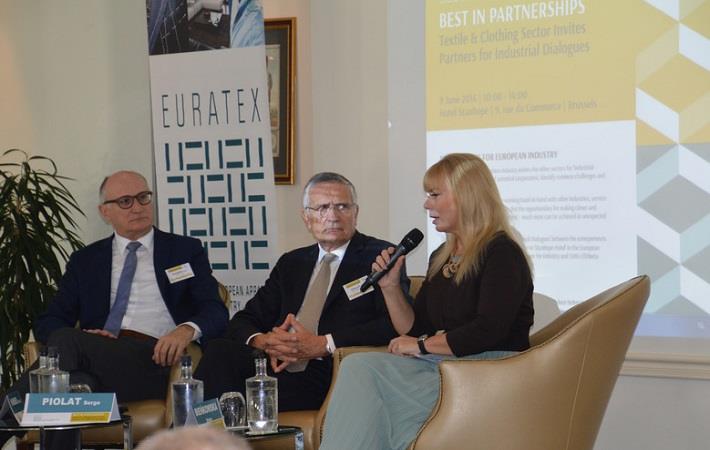 On its 20th anniversary, Euratex - the European Apparel and Textile Confederation, which is the political voice of the textile and clothing industry in Europe, hosted its international conference 'Best in Partnerships' devoted to inter-sectoral partnerships to boost European manufacturing.

European Commissioner for Internal Market, Industry, Entrepreneurship and SMEs Elzbieta Bienkowska in her key note address said, "Textile and fashion industry is a strategic sector in the EU and it is really performing well. The European Commission is undertaking a number of actions to meet three main challenges of the sector: innovation, international competition and skills shortage."

The Commissioner underlined that the European institutions are expecting full engagement of industry, because knowledge about the companies' needs should drive the development of new policies and programmes.

Euratex's President Serge Piolat emphasized that textile and fashion sector is appreciating the European Commission's willingness to build a dialogue with the industry, the organization said in a press release.

Euratex proposed a concrete action plan to the European Commission to strengthen internationalisation of the SMEs, assure fair conditions for the European companies through stricter market surveillance, provide better access for SMEs to EU research funds and boost innovation investments at regional level through RegioTex initiative. "We are strongly committed to show meaningful results and we have equally high expectations of concrete actions from the policy-makers," said Piolat.

The textile and fashion industry invited other sectors to identify common challenges and discuss new areas of cooperation. The conference was organised in a new format of Industrial Dialogues when two at a time representatives of different sectors had a free discussion between them and with the audience. The topics addressed were circular economy, creative industries, education and skills and international trade.

Ietje Klaver, sales director at Ecoalf, the Spanish sustainable fashion brand making all its products with recycled materials, discussed the challenges of the circular economy with Isabelle Spiegel, a director in charge of Environmental Business Line in Arcadis – a global design, engineering and management consultancy. The circular economy is a concept of closing the loop of product lifecycles which is beneficial for the environment and profitable for companies. Both speakers agreed that to build circular economy in Europe, silos between different sectors should be broken. With companies' creativity and innovation, the waste of one industry can become the raw material for the other.