Make in India Week to showcase country's prowess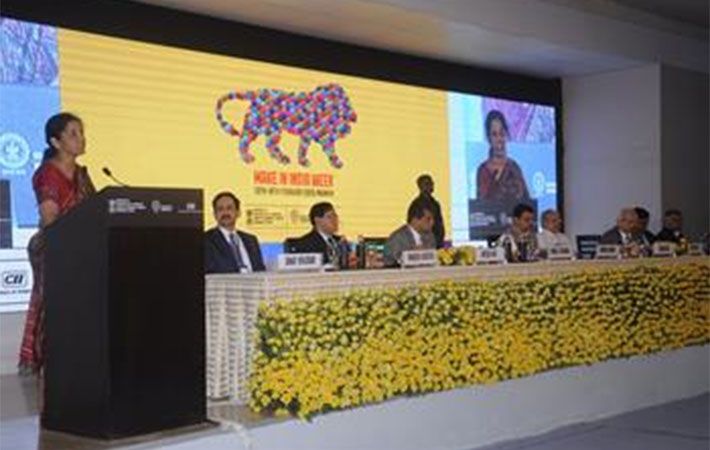 Ahead of the Make in India Week in Mumbai which begins on February 13, Commerce and Industry Minister Nirmala Sitharaman has said that the event will showcase India's manufacturing prowess and its potential as an investment, innovation and manufacturing hub.

"The government has incessantly pushed policy measures to boost manufacturing and today FDI in India is growing at 48 per cent while globally there is a sharp fall. The global business community has responded enthusiastically to Indian economy's revivalist fervour and Make in India Week will further showcase the nation's accomplishments in manufacturing and position India as investment, innovation and manufacturing hub," Sitharaman said at the curtain raiser press conference.

She stressed that the Gentral Government views States as partners to realize the nation's potential for achieving higher rates of growth and creating employment for masses.

"States have a significant role in building and sustaining a manufacturing revolution and in the spirit of co-operative as well as competitive federalism they will be the drivers of development and centre will play a catalytic role," she said.

Make in India Week is expected to see a rash of business events and investor summits. Emphasizing that the world has now started to recognise India as a trusted investment destination, Maharashtra Chief Minister Devendra Fadnavis, said, "India is poised to be the next big manufacturing destination."

"The Make in India Week will have global players exploring new avenues of investment in Maharashtra and hosting this event in the commercial capital of India will not only help consolidate the State's position as one of the favoured destination for foreign and domestic investors but also reinforce itself as a one of the gateways to economic and intellectual engagement with India," he added.

Some of the key government delegations at the Make in India Week will include those from Finland, Sweden and Lithuania which will be led by their Prime ministers while the Polish delegation will be led by the country's Deputy Prime Minister.

Secretary, Department of Industrial Policy and Promotion, Amitabh Kant who was also present at the curtain raiser said, "In order to give further momentum to the initiative begun by the Prime Minister aimed at promoting India as a big investment destination and increasing its share in global foreign investment, Make in India Week will be the biggest such effort."

He further pointed out, "The challenge before India is to sustain a 9-10 per cent growth rate for the next 3 decades. This can be achieved only if India continues to offer an easy ecosystem for businesses to flourish and a robust manufacturing sector growth."

Some of the highlights of 'Make in India Week' would be the inauguration of the Make in India Centre at the Bandra-Kurla Complex by Prime Minister Narendra Modi, CNN Asia Business Forum attended by global visionaries and leaders from the fields of finance, industry and design, and Time India awards recognizing excellence in the world of manufacturing and number of other notable events under aegis of Make in India Week, Kant said.