"Give back to society" – Fair Trade official urges textile & clothing firms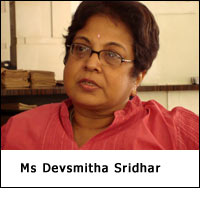 "I would request everybody in the Indian textile industry to practice ethical trade – which means giving back to the community, as since long we have only taken. Though India is developing fast, there are still a lot of disparities and providing a decent living wage could mean, making a beginning by giving back to society", urged a top official of Fair Trade Forum – India, on the eve of World Fair Trade Day, which falls on May 14.

Not all trade is fair! Farmers and workers at the beginning of the chain don't always get a fair share of the benefits of trade. Fair Trade enables consumers to put this right.

Today, Fair Trade is an organized social movement and market-based approach to empowering developing countries producers and promoting sustainability. Fair Trade history is strongly linked to working with small producers and farmers.

Fair Trade work with small producers and farmers aims to encourage them to work together and to gain the knowledge and power to improve their own situation. It works with small producer associations, co-operatives and other such organizations as they strive for fair and responsible trading relationships.

Fair Trade movement also advocates the payment of fair price as well as social and environmental standards in areas related to the production of a wide variety of goods. It focuses in particular on exports from developing countries to developed countries.

Fair Trade Forum - India (FTF-I) is the national network for Fair Trade in India. Through 75 member partners, FTF-I is reaching out to more than 100,000 grassroots level producers including artisans & farmers in India. FTF-I as the Indian national network, is working in close coordination with World Fair Trade Organization (WFTO).

On the eve of World Fair Trade Day, Fibre2fashion caught up with Ms Devsmitha Sridhar, an Evaluator at Fair Trade India, who was in Ahmedabad to evaluate a company and was kind enough to spare time from her busy schedule and inform us on the activities of Fairtrade International.

Ms Sridhar has 20 years of experience of working as a social development counselor and works towards capacity building, developing job opportunities and providing training in product development of the artisans.

Ms Sridhar began by saying, "Fairtrade is a movement started way back in the 1960's in the United States. The movement began in a Church, with a vision to help the disadvantaged people. These products carried a small premium on the prices, which is how the concept of fair wages began, by pay a little more to improve the livelihood of artisans who may not have the normal advantages.