'Create something that outlives you' – Yogesh, Umaid Mills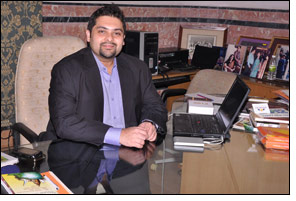 His textile company is a winner of 'Forbes Asia 2011' award and is also cash-positive. He practices what he believes in. Sustainability and conservation are two subjects close to his heart. So, when most textile companies would be content installing an effluent treatment plant (ETP), he has gone one step ahead and erected an RO water treatment plant, which further purifies the water and in turn reduced overall water consumption by 40-50%.

While most organisations measure the intelligence quotient, when hiring top and middle level personnel, he also measures the emotional intelligence quotient. Ever since he joined the management of the textile mill in 2007, his company has grown at a blistering 25 percent CAGR in the last four years and is also expected to clock a healthy growth rate in the current fiscal.

I am in Pali – Rajasthan to meet Yogesh Bangur – Director of Rs 4.3 billion turnover, Maharaja Shree Umaid Mills Ltd (MSUM), mainly a cotton textile mill. He is the fourth generation scion of the Kolkata-based Bangur family, a family in the Indian trade and industry for well over a century.

Yogesh comes across as a 1,000 kilowatt live wire, brimming with ideas to implement, but in a systematic and unhurried manner. For instance, he has big plans for MSUM, but does not want to implement them in a rush. He would rather outsource production and test-market a new textile product, than straight away invest on building new production capacities.

Yogesh who is just all of 28 years has studied at Don Bosco School in Kolkata and graduated in accounting and finance from Warwick Business School in UK and also did his post graduation from Warwick Manufacturing Group in programmes and projects management.

Yogesh is an avid sports aficionado and loves to play tennis and badminton, which he picked up when in school and still pursues it avidly. He is also in to adventure sports and is a certified scuba diver. Atleast once a year, he plans a trip to indulge in his passion for deep sea diving.

He is not a voracious reader, but loves to read short stories, mainly of RK Narayan. He is gung-ho about 'emotional intelligence' a topic on which he has done a thesis while in Warwick and has read books on the subject by Daniel Goleman, an authority on emotional intelligence.

He is married to Meenakshi, daughter of Mr Siddharth Birla of the SK Birla Group. She is on the board of Jamnagar – Gujarat based Digjam Limited - an SK Birla group company and a reputed worsted textile suiting producer. Meenakshi is currently spearheading Digjam's sales and marketing function.

The Bangur siblings including his elder brother and sister were brought up on a rich diet of being down to earth and avoiding wasteful expenditure. Respecting others – young or old comes naturally to Yogesh. Sticking to ethics, come what may, is another value ingrained in him. Reaching out and helping people is a way of life in the Bangur family.