China's textile & apparel exports to EU down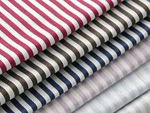 China exported textiles and apparels to the EU worth US$ 4.14 billion in September 2012, registering a decline of 5.2 percent year-on-year, according to the figures released by China Chamber of Commerce for Import and Export of Textiles.
Although the year-on-year decline was lower compared to the dip in August, there was a huge 21 percent month-on-month decrease in September, which points to the European market still being affected by debt crisis.
From January to September, China's textile and clothing exports to the EU earned US$ 36.17 billion, showing a decline of 13.5 percent year-on-year.
Among sub-sectors, the exports of garments dipped 15.6 percent year-on-year, while the average price of apparels dropped 2.7 percent year-on-year.
Fibre2fashion News Desk - China