Huge scope for development of Chinese home textiles sector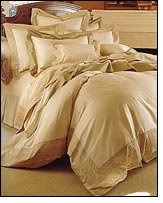 There is tremendous scope for development of the home textiles industry in China, and it can become a major driver of economic growth, according to industry analysts.
It is estimated that around 10 million couples get married every year in China, and if each couple consumes home textiles worth 2,000 yuan, this market size itself would work out to around 20 billion yuan, according to analysts.
Secondly, the rapid development of real estate sector and improvement in housing conditions, further promote the development of the domestic home textiles industry in China.
Demand for home textiles also arises due to development of tourism, as the hospitality industry would use home textiles for bedding and for decorative purposes.
Fibre2fashion News Desk - India