Williams Partners ends $1bn offering of 4.3% senior notes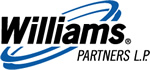 Williams Partners announced that it has completed a public offering of $1 billion of its 4.3 percent senior notes due 2024 at a price of 99.791 percent of par and $500 million of its 5.4 percent senior notes due 2044 at a price of 99.676 percent of par.
Williams Partners plans to use the net proceeds from the offering to repay amounts outstanding under the partnership's commercial paper program, to fund capital expenditures and for general partnership purposes.
BofA Merrill Lynch, Deutsche Bank Securities and RBC Capital Markets acted as joint book-running managers for the offering.
Williams Partners