Hong Kong to host high performance natural fibre seminar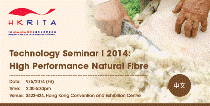 High performance natural fibre seminar - Technology Seminar I 2014 will take place on 9th May 2014, at S423-424, Hong Kong Convention & Exhibition Centre, 1 Expo Drive, Wan Chai, Hong Kong.
There is a general perception that natural fibre fabric wrinkles and be damaged easily. With advanced textiles technologies nowadays, products made of natural fibres such as wool and cotton are good in surface properties with high tensile strength and low spirality.
This seminar will introduce the latest version of Nu-Torque cotton yarn production technology which has a technology development on better and consistent quality by optimising the computing control.
Nu-Torque singles ring yarn technology is a means to produce singles ring yarn of low twist and high strength with reduced residual torque that can be woven and knitted in fabrics with soft hand feel, low spirality, good strength and pilling performance.
Representatives of two technology licensees will share their experience on its industry application. A representative of the Woolmark Company HK Ltd will shed light on the latest technology development of Merino wool and its functional performance on outdoor sportswear.
Technology Seminar