NY cotton futures continue precipitous slide last week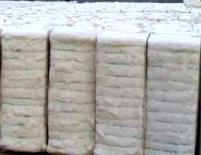 Last week, New York cotton futures continued their precipitous slide, with December falling another 316 points to close at 61.89 cents/lb.

Negative technical and fundamental developments pushed December to a new record low of 60.83 cents on Thursday, before a dead-cat bounce resulted in a small rebound going into the weekend.

"The technical picture looks emphatically bearish after the market broke through some key support points this week", Plexus market reported.

First December dropped below an uptrend line dating back to August 1, which effectively ended an eight-week countertrend move, and then it swiftly moved back below the longer-term downtrend line that originated in early May.

"Adding insult to injury, December then took out the 62.02 cents low a few days later, which opened the door to some uncharted territory to the downside", Plexus said.

The latest CFTC spec/hedge report, which reflects position changes as of Tuesday, September 23, clearly shows that speculators were the driving force behind this latest selloff as they increased their net short by an impressive 12'100 contracts.

The trade on the other hand was a net buyer of 12,861 contracts, while index funds made up the difference by selling 761 lots net.

Speculators and the trade are now 2.4 million and 3.5 million bales net short, respectively, while index funds hold a corresponding net long of 5.9 million bales.

China's announcement this week that no import quota outside the 894,000 tons would be granted in 2015 also weighed on the market, since lower than expected imports would lead to an increase in the ROW balance sheet.

The USDA report says that has China will import 8.0 million bales in this season, which seems reasonable. The just released import data shows that China imported 0.94 million cotton bales in August, which is a good first step towards that 8.0 million bales goal.

If September to December imports were to continue on a similar or even slightly lower trajectory, then it would already be halfway there by year's end.

Somewhat more concerning is the slowdown in the August Chinese yarn import data, which at 133,165 tons was considerably lower than the 180,955 tons a year earlier.

Vietnam took over as the top shipper to China, while Pakistan and India were far below their usual amounts.

For the first eight months of the calendar year, Chinese yarn imports have amounted to 1.13 million tons so far, which is just 4% below last year's total, but it is the declining trend that is worrisome.

Fewer yarn imports by China will translate into higher ROW ending stocks which presents an even bigger issue than cotton imports.

The market's main price driver over the last three seasons has without doubt been the relationship between the ROW production surplus and Chinese imports.