USDA forecasts global cotton output at 119.4mn bales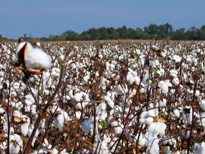 "Global cotton output in 2014/15 is estimated at 119.4 million bales, which is similar from the previous season, as higher area is offset by a lower global yield," the USDA informs in its latest October report.

The agency explains, "Although slightly below 2013/14, the October production estimate represents an upward revision from the previous month's forecast, mainly reflecting increases for India, China, and Pakistan."

World cotton harvested area is forecast at nearly 34.3 million hectares or 84.6 million acres in 2014/15, similar to 2012/13, while yield is forecast at 759 kilograms per hectare or 677 pounds per harvested acre, the lowest in five seasons.

USDA says output in India and China were raised 1 million bales each this month to 31 million and 30.5 million bales, respectively, as area and yield were projected higher.

For India, 2014/15 production is expected to equal the previous year as record harvested area is moderated by a reduction in yield. India's area is forecast at 12.75 million hectares or 31.5 million acres, 9 percent above 2013/14, while yield is down 8 percent from last season's record.

China's 2014/15 production is projected 7 percent below 2013/14 as lower area more than offsets a record national yield. China's harvested area of 4.4 million hectares or 10.9 million acres is the country's smallest since 2000/01.

However, with a larger share of the crop grown in the Xinjiang region, where provincial yields surpass those of the eastern provinces, China's yield is projected at a record 1,509 kilograms per hectare or 1,346 pounds per acre.

"Increases in China's 2013/14 and 2014/15 production, relative to last month mainly reflect revised reports of 2013-crop cotton which entered the national reserve, indicating that production was higher than previously estimated," the USDA report explains.

For Pakistan, USDA projects 2014/15 production at 9.8 million bales, up 300,000 bales from last month's forecast. Pakistan's crop is expected to be the highest since 2011/12 and the third highest on record, from a modest increase in both area and yield.

Global cotton mill use is expected to expand nearly 5 percent in 2014/15 to 113.7 million bales as lower fiber prices help push consumption to its highest since 2010/11. China, the world's largest mill user, is projected to account for two-thirds of the increase in 2014/15.

This USDA explains, is due to policy changes, which are expected to make cotton yarn imports less attractive than spinning domestically-produced cotton. Resultantly, China's cotton mill use is expected to grow 10 percent in 2014/15 to 38 million bales.

India's cotton mill use is expected to expand 4 percent or 1 million bales in 2014/15 to 24.5 million bales, a record. In addition, a number of countries are forecast to achieve 200,000-bale gains in mill use, including Pakistan, Turkey, Bangladesh and Vietnam posting rise of 2, 3, 5 and 6 percent, respectively.