USDA latest estimate cuts 2014 US cotton crop by 3%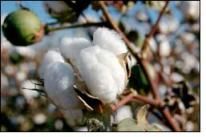 USDA reduced the 2014 US cotton crop by 3 per cent to 15.9 million bales in its latest cotton crop forecast released this month; however, the estimate remains 3 million bales above the 2013 crop.

While planted area rose 600,000 acres to 11 million acres this season, harvested area increased 2.3 million acres as the drought eased in the Southwest region this summer.

US harvested area is estimated at nearly 9.9 million acres, the highest in four years, while the national yield is projected at 773 pounds per harvested acre.

This yield is below both last season and the record of 892 pounds per acre achieved in 2012.

Upland cotton production is estimated at 15.3 million bales, compared with the 12.3 million bales produced in 2013.

The extra-long staple (ELS) crop is forecast at 578,000 bales, again the lowest in four years.

"Upland cotton output is forecast to rise in three of the four cotton belt regions this season as a result of higher area," the report informs.

The Southwest will regain its position as the leading producing region for the 2014 season, as upland crop is forecast at 6.2 million bales, 43 per cent above 2013's 4.4 million bales.

According to USDA, the increase is due largely to a low abandonment rate of about 17 per cent, compared with the previous 3-year average of 50 per cent.

As of December, the Southwest upland yield is estimated at 556 pounds per harvested acre and also the lowest in over a decade.

For the Southeast, cotton output in 2014 is estimated at 5.1 million bales, 17 per cent above last season.

"The larger crop results from the second-highest yield on record—927 pounds per harvested acre as against a record of 1,033 pounds set in 2012," USDA explains.

In the Delta, production is expected to approach 3.3 million bales this season as both area and yield are above a year ago.

Although area of 1.4 million acres is below the 5-year average, the Delta yield is forecast at a record 1,104 pounds per harvested acre.

In the West, upland production is expected to reach only 723,000 bales, the lowest on record for the region.

Area shifted out of upland cotton for the third consecutive season as water limitations, mainly in California, pushed acreage to a low of 241,000 acres.

US cotton demand for the 2014/15 season is forecast at 13.8 million bales, unchanged from last month but 2 per cent below 2013/14.

US cotton mill use, based on data from the Farm Service Agency, remains projected at 3.8 million bales, up from last season's 3.55-million-bale estimate.

US exports, on the other hand, are forecast at 10 million bales in 2014/15, 500,000 bales below the previous season.

Reduced foreign import demand, mainly by China, is expected to lower world trade and keep US exports at their lowest since 2000/01.