USDA global cotton output estimates remain unchanged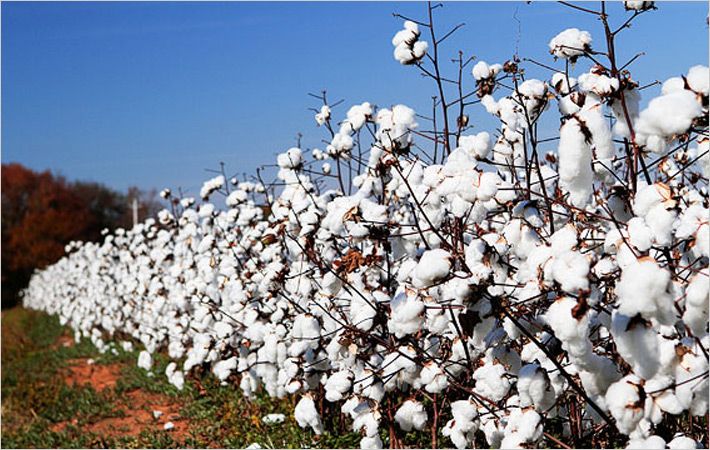 World cotton production this season is forecast at 119.2 million bales, virtually unchanged from last month's projection and slightly below 2013/14 as higher area this season is offset by a lower yield.

"Global harvested area in 2014/15 is estimated at 34.1 million hectares or 84.4 million acres, nearly 1.4 million hectares or 3.4 million acres above the previous season," a latest press release from USDA informs.

The global yield is forecast at 760 kg per hectare or 678 pounds per acre, compared with 800 kg per hectare or 714 pounds per acre for the previous season.

In 2014/15, India's production is forecast at 30.5 million bales, about 2 per cent below 2013/14, as a reduction in yield, more than offset a 1-million-hectare increase in area to a record 12.7 million hectares.

China's cotton crop is expected to reach 30 million bales in 2014/15, 8 per cent below 2013/14 and the second consecutive annual decline and acreage is projected at 4.4 million hectares, lowest since 2000/01.

According to the USDA, as cotton area moves out of eastern China to the higher yielding western region, the increased productivity has limited the effect of lower area on production.

Production declines are also forecast for the Southern Hemisphere as Brazil's cotton crop is expected to decrease about 13 per cent to 7 million bales, resulting from lower area and yield.

Australia's production in 2014/15 is projected to decline by nearly half to 2.2 million bales as dry conditions and depleted irrigation supplies reduce area for the third consecutive season.

Offsetting these declines are production increases in countries that devoted more area to cotton in 2014/15.

These countries include the United States, up 3.2 million bales, Pakistan also up 1 million bales, and Turkey also up 0.9 million bales.

World cotton trade is projected to decline significantly for the second consecutive season as China continues to import less raw cotton.

Global cotton exports are forecast at 34.4 million bales in 2014/15, 6.3 million bales or 15 per cent below last season.

India, a large raw cotton supplier to China last season is expected to bear the brunt of this season's reduced shipments.

India is projected to export only 4.2 million bales in 2014/15, compared with nearly 9.3 million bales last season.

Australia's exports are also projected about 2 million bales lower due to their reduced crop and despite significantly lower imports; China will remain the leading cotton importer in 2014/15.

Imports by China are expected to reach 7.3 million bales this season, nearly half the level imported in 2013/14.

Offsetting a portion of this decline, however, is the growth in other importing countries such as Vietnam, Bangladesh, and India.