Winding machine specialist Savio hosts seminars in Gujarat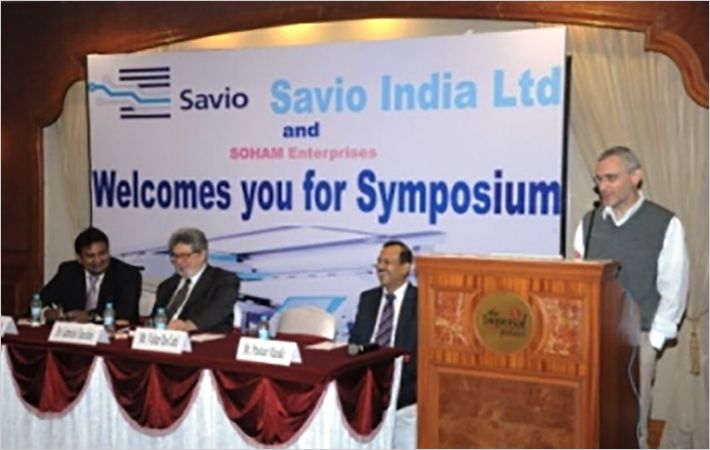 Savio India recently hosted a technical seminar in Ahmedabad and Rajkot in Gujarat, India and showcased a presentation on winding and splicing technologies. From Savio were present, Dr Gabriele Checchini, CEO of the Indian operations, Valter De Carli, its regional sales vice president and K Mohanraj, vice president - national sales.

Carli began the presentation by explaining the evolution of Savio, which today is a leader in the yarn finishing machine sector, operating worldwide in the manufacturing and marketing of automatic winders, continuous shrinkage and bulking winders, two-for-one twisters, and rotor spinning frames with factories in Italy, China and India.

Savio began in 1911 by establishing a small workshop specialising in repairing textile machinery, mainly looms. In 1946, it graduated to producing assembly winders and is now today a maker of state-of-the-art technologies for the various segments of the textile industry and today has now manufacturing operations, apart from Italy, in China and India.

Savio invests 5 per cent of its turnover in R&D to develop newer technologies and now is present in almost 60 countries. 2011 was a peak year for Savio, when it attained its highest sales in history and was also the year in which deliveries took almost a year due to the unprecedented orders it received that year. However, post 2011, sales have now stabilised to a level, where it is now able to serve customers quicker.

According to Carli, Savio is the world leader in winding technologies and has a massive 40 per cent global market share of the overall worldwide winders market and in China, has an even higher market share of over 65 per cent. Savio says Gujarat too has been a favourable market for the company which has seen a heavy demand for its winders.

Considering the demand for more automated technology for processing special and value-added yarns, Savio has concentrated in the area of splicing, which serves the special needs of processing value-added yarns. Savi has recently added a new splicer range, which has five models and claims that with this range, there is no yarn in the world, which cannot be expertly spliced through the use of one of these splicer technologies giving high consistency and maximum strength.

Similarly, the Polar family of winders is available in different versions like Polar M/L, Polar MR/LR, Polar E, Polar E Premium, Polar E Premium Duo Lot and Polar/I Direct Link System. This machine has been designed keeping in mind the demands of its customers in terms of increased productivity, reduced energy consumption, reduced waste and production of yarn package of top high quality.

Polar M is equipped with manual bobbin feeding and manual package doffing, while in the L model, the package doffing is automatically made by a patrolling robot, while the MR/LR version allows rewinding of packages of any taper, producing packages ideal for any subsequent use.