Society expo ends on a successful note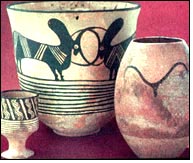 Society Collection Expo, one of the most anticipated events, finally took place on December 28 at Hi-tex in Madhapur, Hyderabad.

The exhibition saw participation by renowned artists and craftsmen from around the country displaying their most cherished works of art. The three day expo was inaugurated by Thota Vaikuntam who is well known for his artistry.

The event displayed almost everything that one can think of. From contemporary and conventional jewelry to tribal handicraft, pottery, designer wear, ceramic ware, wooden frames, furniture and a host of other things.

More than 120 stalls were set up by artists coming from Rajasthan, Gujarat, Maharashtra and Orissa. Besides, interior experts and fashion designers had also showcased their works at the expo.

For the small entrepreneurs it was a good opportunity to come in direct contact with consumers and their preferences and provide them with quality work of art.