CMAI & CSMA together for CSMAS India 2008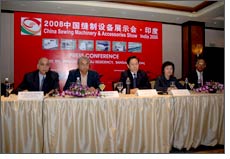 For the first time ever, globally leading Chinese Sewing Machinery manufacturers are coming to India displaying their products offering latest technology at affordable price.

Nearly 100 Chinese companies including Feiyue, Typical, SGSB, Zoje, Jack, Tongyu, Founder, Takatori, Jinyum Laser, Xingdahao, North Phoenix and Chongqing Zero have confirmed their participation in ``China Sewing Machinery & Accessories Show-India 2008'' (CSMAS India 2008) -the India's largest"Exclusive Chinese" Apparel & Allied Machinery and Spares Trade Show coming up at the Bangalore International Exhibition Centre, Tumkur Road, Bangalore from January 10 to 12, 2008.

The Clothing Manufacturers Association of India (CMAI) and the China Sewing Machinery Association (CSMA) are jointly organizing this first ever largest Solo Show outside China spread over an area of 10,000 Sqm.

The focus of the exhibition will be on showcasing the latest in technology, innovative approach, competitive pricing and high productivity.

The Chinese Companies will be displaying their latest and extensive Range of Sewing, Cutting, CAD CAM, Laser, Button Attaching Machine, Embroidery Software, Finishing Equipment, Inspection, Fusing Equipment, Quilting Equipment, Pattern Making System, Garment Accessories and Spare Parts.

China is the leader in Sewing Machinery Manufacturing accounting for more then 70 percent of the Total World Production.

After the rapid development in recent years, the China Sewing Machinery Industry has stepped into a stage of structural adjustment and the upgrading of the Industry.

Each Company pays more attention on the upgrading of Technology, upgrading the Quality of the Product and building of an International Brand whilst increasing the Production.

All the Chinese Companies are now promoting their Products overseas. India, being the Second Largest Producer of Apparel in the World, is gradually becoming one of the main Focus Markets for Chinese Machinery Manufacturers.

This is the first ever attempt by CMAI and CSMA to bring together leading Chinese machinery manufacturers and Indian apparel producers on such a large scale.