CSMA President Speech at CSMAS INDIA Press Conference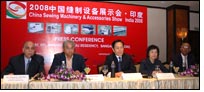 Speech by Mr. Tian Minyu, President, China Sewing Machine Association at a Press Conference in Bangalore on 8.1.08 at Taj Residency on the occasion of launch of CSMAS INDIA 2008.

Just the same as the tenet of 'CSMAS. INDIA 2008', my main purpose been here is to introduce China Sewing Machinery Industry and Sewing Machinery Products.

Sewing Machinery industry sprouted in China one century ago but its prosperity came forth after the reform and opening of China.

30 years has been passed, China has grown up into the world largest sewing machinery production base and the total output of sewing machines amounts more than 70% in the world.

The throughput of sewing machine last year is 16,500,000 sets, in which industrial sewing machine amounts to 8,600,000 sets, while the household sewing machine 7,800,000 sets, the embroider machine 100,000 sets. 1,3000,000 sets were exported outside China.

The export increases each year. China sewing machinery industry has huge producing ability, and the whole sewing machine enterprises conjugate well with the spare parts manufacturers.

The type of sewing machinery is diversiform. Except ordinary machines, special machine developed rapidly especially in pre-sewing and after-sewing fields.

With the perfection of producing techniques, the stability of product quality improves continuously. Especially through the rapid development in recent years and the investment in technique innovation increased, intellectualized, mechanical and electronic integration production with high added value increased a lot.

The level of some of the products even tops international market. The products made in China have special status in some field like embroidery machine. The developing speed of embroidery machine in China is amazing.