Feiyue makes outstanding achievements in Sewing Exhibition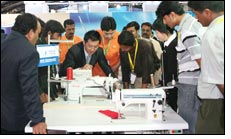 From Jan 10th to 12nd, 2008 China Sewing Equipment Exhibition was held in Bangalore International Convention and Exhibition Center which is known as the "Silicon Valley" of India.

The exhibition held jointly by the China Sewing Machinery Association and the Garment Association of India was the first one organised by the China Sewing Machinery Association abroad.

India, as the world's second largest clothing production base, is gradually becoming an important target market of China Sewing Machinery Industry.

Feiyue, as the leader of the industry, attached great importance to the exhibiton, not only decorating the pavilion tastefully, but also attending by backbone exhibitors in trade and technology, leading by Mao Ling-yan, general manager of the Import and Export Co Ltd. Feiyue Indian subsidiary company also sent a powerful lineup with full support.

During the show,Feiyue pavilion, located at the most significant place of the entrance to the exhibition hall was always thriving with merchants gathered.

Mechanical and electrical integration, automation, intelligent high-tech products won great favor of the major clothing manufacturers who demanded for products information of Feiyue eagerly.

Several large apparel exporters in India also signed 2008 orders with Feiyue. In the opening ceremony, the prototypes exhibited were all ordered out.

Yu Tianmin, chairman of China Sewing Machinery Association, vice-chairmanHe Ye and Mehta Rahul Narendra, president of India Garment Association visited the pavilion of Feiyue.