Pret-a-Porter Fair gives way to Peruvian Alpaca Textile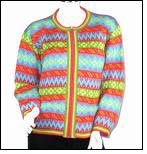 Paris, one of the world's leading business and cultural centers of France, is holding an exhibition of textiles made of Peruvian Alpaca. The Pret a Porter Fair is organized by The Commission for the Promotion of Peru (promperu) from January 24 to 27.

Promperu has managed to attract participation from five textile companies and nine national designers as this is an exclusive event.

Besides, buyers from different countries and renowned designers with huge experience in alpaca clothing will also showcase their work.

'Alpaca' primarily refers to the hair of Peruvian alpaca. It is one of the world's finest fibers is used to make many gorgeous high-quality garments and other accessories. It's silky, luxurious, soft and warm.

One of the major reasons for Pomperu to participate in this international is to carve a niche for the Alpaca fibre and clothing, in the French domain. Through the exhibition and promotional activities of high quality clothes and accessories the organizers want to raise Alpaca to the international arena.

This event, will be attended by foreign and domestic buyers and sellers, there will be various commercial exhibitions of the most renowned world companies in the industry.