Glimpse of regional craft at Batik & Craft Expo 2008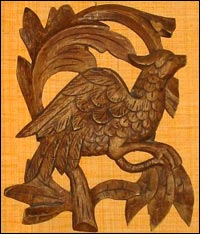 Seri Q-Lap Mall in Kiulap is all set to showcase its rich and vibrant culture. The Batik and Craft Expo 2008 is scheduled from February 27 to March 2. It is presented by CRS Konsortium in cooperation with Crisnobel, Rakan Tiga Media and Syarikat Sendiseni.

The purpose of this event is to give the visitors a flavor of the regional fashion, art and craft.

The craftsmen, artists and entrepreneurs will have a great chance to display their products and will provide them with the opportunity to get connected with the region's famous designers. There will be stalls showcasing batik textile designes, ethnic handicraft, souvenir gifts, silver jewellary and other artistic and decorative items.

To add grandeur to the event, handicraft workshops and batik painting demonstration will also held here.