CITI invites T&C industry to participate 3rd Atexcon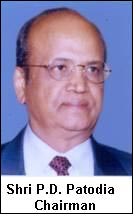 In an attempt to evolve an Asian convergence of textile and clothing industry, Confederation of Indian Textile Industry (CITI) is organizing the 3rd edition of Asian Textile Conference (Atexcon) along with the Golden jubilee celebrations of CITI (Erstwhile ICMF) on March, 18-19, 2008 in New Delhi.

In a statement here Shri P D Patodia, Chairman, CITI said that the complementarities existing among the neighboring countries have not been explored adequately and a synergic relation of all the textile producing countries from the region would help them to increase their share in the global textile market.

Shri Patodia said that the Golden Jubilee of CITI and 3rd Asian Textile Conference are being organized simultaneously at an opportune time when the Indian T&C industry look for ways to improve the competitiveness in the wake of appreciating domestic currency and increasing input costs.

He said that representatives from Textile and Clothing Industry from countries like China, Bangladesh, Vietnam, Srilanka and Pakistan would deliberate on various aspects of textile industry in their respective countries in the two day conference.

Chairman, CITI invited T&C industry to participate in the forthcoming Golden Jubilee celebrations of CITI and the 3rd Asian Textile Conference (Atexcon).

He informed that Hon'ble Prime Minister, Dr Manmohan Singh has been invited to Inaugurate Golden Jubilee celebrations of the Confederation of Indian Textile Industry.