Janome helps spread word about Heart disease with HT2008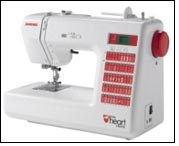 February is American Heart Month and Janome America Inc, a leading manufacturer of home sewing machines, is joining in the effort to help spread the word about heart disease, the number one cause of death among American women, through a limited edition Heart Truth sewing machine.

"Janome America Inc and The Heart Truth campaign urge all Americans to get smart about their heart in observance of American Heart Month", says Janome executive Randy Thomas. "The HT2008 gives us a great opportunity to help spread the word about the risks of heart disease and different ways to get heart healthy."

Heart disease is responsible for the deaths of one in four women in the United States. Surprisingly, many women still do not take their risk of heart disease personally and seriously. In order to help increase awareness and educate women about their risk, Janome America, Inc. has joined forces with The Heart Truth, a national awareness campaign for women about heart disease, sponsored by the National Heart, Lung, and Blood Institute (NHLBI), part of the National Institutes of Health.

As a first year partner with The Heart Truth campaign, Janome has designed a limited edition sewing machine, the HT2008. Accented in red, The Heart Truth model is loaded with advanced computerized features that embody the innovation and quality for which Janome is known. Included with the machine is a brochure about The Heart Truth campaign, as well as a Red Dress Pin, the national symbol for women and heart disease awareness.