Hoopla! Project for stitching industry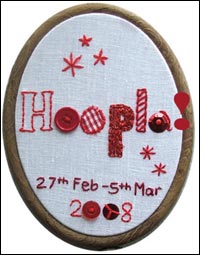 Hoopla! is a week long creative workshop and exhibition that takes the traditional craft of embroidery into the realm of contemporary art.

Hoopla! is from 27 February – 5 March 2008 at Artstation, 1 Ponsonby Road, Newton.

Closing celebration: 5-7pm, Wednesday 5 March 2008

The project is set in the Hoopla! parlour, a relaxed lounge-like working space furnished with beanbags, comfortable couches and a digital fireplace. Participants are invited to come and create art works using stitch, embroidery hoops and a selection of fabrics, buttons, beads, sequins and thread.

Teaching the basics of hand stitching to children and adults is key to the Hoopla! project and participants can either join one of the stitch workshops or visit the parlour to stitch in their own time. Adults, teenagers, children and families are welcome to participate.

"Hoopla! introduces, encourages and fosters the sense of fulfilment and satisfaction that results from hand making an item," say facilitators Esther Lamb and Shelley Simpson.

The facilitators and artists Judy Darragh, Karen Dennis and Rachelle Wood will be available at scheduled times during the week to teach basic hand stitching and inspire participants. They will also create new work for Hoopla!

As the project evolves the walls of the Hoopla! parlour will be adorned with participants' unique creations in stitch. A closing celebration on Wednesday 5 March marks the completion of the Hoopla! parlour and project.

Hoopla! Hoopla!