A look at Trevira CS furniture fabric library at Heimtextil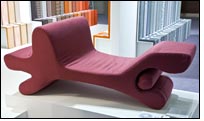 At Heimtextil this year the organisers chose the showcase "Competence Square Upholstery" to show their support for new entrants to the industry.

This was the first occasion Messe Frankfurt presented the "Young Contract Creations Award Upholstery" and they did so in conjunction with sponsors Trevira CS and the trade journal PolsterFashion, published by M. Ritthammer.

Students in fields such as interior and product design were asked to design functional and attractive looking seating for the public area of a hotel.

The main prize was €1,500, linked with a period of practical training lasting several weeks at Michalke, the manufacturers of upholstered furniture.

This was won by Philipp Goreth, an interior design student at the Fachhochschule Coburg, for his multifunctional piece
"Personalita".

The design faculty at the Fachhochschule received in addition an award of €1,500 to assist in developing its study programme.

"Personalita" takes its shape from the ergonomic measurements of the human form when seated and it can be used in a variety of ways, as a chair, sofa, high stool or as somewhere to put things. Goreth chose a Trevira CS fabric by Christian Fischbacher to realise his design.

There were two commendation prizes, each worth €1,000, and the five-man panel awarded these to the "Room M8"design by Robert Korn from the Hochschule für Bildende Künste, (College of Fine Arts), Hamburg, and to the stool "strap" by Sebastian Herkner, Hochschule für Gestaltung (Design College), Offenbach.