USTERIZED label promises consistent textile quality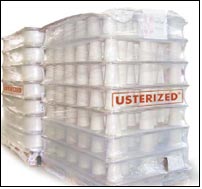 "USTER" and "quality" have been synonymous in the textile industry for more than 60 years. The USTERIZED concept was created in order to support this striving for quality.
The USTERIZED label has been in existence since 1967 and gives assurance of a consistent quality of the tested product.

The USTERIZED program allows certified spinners to put the USTERIZED label on their products and thus show that these products have been manufactured to professional quality standards. Selected companies are invited to acquire the USTERIZED certificate and interested companies can themselves apply. The granting of the USTERIZED certificate is tied to certain conditions.

The most important are:
•The mill is able to test the quality characteristics for fibers and yarns according to USTER standards.
•The mill has a professional quality management system and analyzes the fibers and yarns with USTER testing systems.
•These testing systems are checked for accuracy and calibrated annually by Uster Technolo-gies AG.
•The testing systems are operated by the companies under defined environmental conditions.
•The products are qualitatively classified by comparing the data with USTER STATISTICS.

The USTERIZED certificate is granted for a period of one year with an annual re-certification. This ensures that certified companies constantly continue to fulfill the criteria for the USTERIZED label.

Spinners have worked for 60 years with testing systems from USTER in order to assure that their products are of a consistent quality and to clearly improve their market position through the award of the USTERIZED brand. The comparison of product specifications with the data of the USTERSTATISTICS assures a defined quality. For decades, the USTER STATISTICS have been the internationally recognized benchmark in the textile industry.