Wal-Mart Canada to carry Winning Colours Stain Remover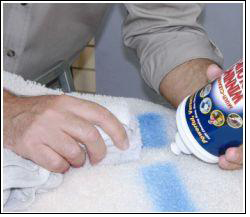 Winning Brands Corporation reports the approval for listing of Winning Colours Stain Remover by Wal-Mart in Canada. Established in 1994, Wal-Mart Canada operates a growing network of 305 outlets nationwide. The company serves more than one million Canadians each day.

The listing is considered a milestone for Winning Brands Corporation as it builds a foundation for its eco-responsible cleaning solutions to become favourites in their categories across North America.

Winning Brands National Sales Manager Patricia Miles notes that Winning Brands has been quietly preparing its infrastructure for the realities of dealing with the world's largest retailing partners.

"It's ongoing," says Miles. "We have to get better each year in streamlining our internal procedures so that we can provide excellent value to consumers through listings with the most advanced retailers. Inventory management, quality control, smart materials purchasing it's all part of what it takes to qualify for this calibre of relationship."

Winning Colours Stain Remover has been growing in popularity amongst households that have discovered it because of the stain remover's gentleness to skin and fabrics, yet powerful action on a wide range of drips, drops and disasters that occur daily by the millions.

The product is based in the paint department of most of Winning Brands' retail partners because of the fact that Winning Colours has unique performance characteristics in paint clean-up and is already a favourite amongst many paint departments for their own internal clean-up projects. The use of Winning Colours Stain Remover is not limited to paint messes, explaining its growing popularity in all markets that it reaches.