Shri Murli Deora presents award to GAIL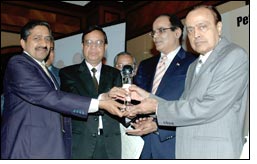 India's leading natural gas transmission company, GAIL (India) Limited has been adjudged the Oil and Gas Transportation Company of the Year, for the year 2006-07.

The award was presented by Shri Murli Deora, Hon'ble Union Minister of Petroleum and Natural Gas to Dr. U. D. Choubey, Chairman and Managing Director, GAIL in Mumbai. The award given by Petrofed carries a trophy and a citation.

GAIL owns and operates 6700 km. of natural gas transmission network which is over 82% of the total pipeline infrastructure in the country.

The extensive natural gas infrastructure established over the last two decades has enabled sustained development of sizeable gas market in the country.

GAIL has a track record of operating the pipelines efficiently and maintaining high safety standards. During the year 2006-07, GAIL handled around 28 BCM of Natural Gas through its Transmission Network and currently, its market share in gas transmission is 79%.

The operating performance of the pipelines operated by GAIL has been excellent in 2006-07 and 100% availability of natural gas pipeline systems was maintained.

GAIL has robust future plans and a road map has been developed to increase pipeline infrastructure to 11000 km by 2011-12.

In addition to gas pipeline network, GAIL owns and operates world's longest exclusive LPG Pipeline Jamnagar-Loni pipeline (1269 km) and another one, Vizag-Secunderabad LPG pipeline (653 km).

These pipelines have efficiently substituted rail/road transportation of LPG to a large extent in the respective areas and also resulted in reduction of emissions.

During the year 2006-07, GAIL added four new natural gas pipelines viz. Dahej – Uran Pipeline, Vijaipur - Kota Pipeline, Kelaras - Malanpur Pipeline, Jagoti - Pithampur Pipeline to provide connectivity to consumers in various parts of the country.

In the current financial year, GAIL has completed Dahej - Dabhol pipeline project which has not only revived the Dabhol power project but also provided connectivity between key locations across Gujarat and Maharashtra.