DMCC-Uzprommashimpeks MoU to set up cotton trade corridor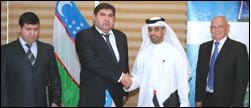 Dubai Multi Commodities Centre (DMCC) announced that it is proposing to build a cotton trade corridor through Dubai with the objective of establishing the emirate as a key link in the global cotton supply chain.

In this regard, DMCC has signed a Memorandum of Understanding (MoU) with Uzprommashimpeks, a trading company set up under Uzbekistan's Ministry of Foreign Economic Relations and International Trade.

In 2007, global cotton production touched 26.74 million tonnes, with Uzbekistan being the second largest exporter after the US. Imports and re-exports through Dubai were nominal with major re-export destinations being Pakistan and Algeria.

The MoU, which coincided with the recent visit to the UAE of H.E. Islam Karimov, the Uzbekistan President, was signed by Ahmed Bin Sulayem, Executive Chairman, DMCC and Mr. Mirzakhidov Khurshid, Chairman of the State Joint Stock Company, Uzprommashimpeks.

H.E. Elyor M. Ganiev, the Uzbekistan Minister of Foreign Economic Relations & International Trade "MFERIT," who was present at the signing of the MoU, said: "Uzbekistan and the UAE have a history of friendly relations, and we look forward to building on this through strengthening our economic partnerships.

We welcome this MoU, which is one of many such steps being taken in this direction. In signing this MoU with DMCC, Uzbekistan supports the status of Dubai as an international centre for trade."

According to the terms of the MoU, Uzbekistan's cotton exports will be routed through the proposed cotton distribution hub in Dubai, for feeding Uzbek cotton into Asian markets.